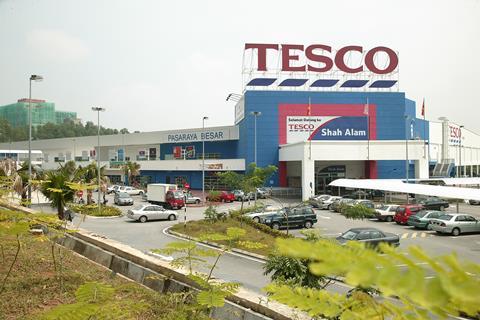 Top story
Tesco (TSCO) has announced it is considering a sale of its businesses in Thailand and Malaysia as part of a "review of the strategic options" for its Asian operations.
The supermarket said the decision followed "inbound interest" but the evaluation was still at an "early stage" with no concrete decision having been taken.
"There can be no assurance that any transaction will be concluded," it added.
Tesco opened its first store in Thailand in 1998 and operates in 1,967 locations there, as well as owning several shopping centres. In Malaysia, where it launched in 2002, the supermarket owns 74 stores.
Together, the two Asian businesses account for around 10% of revenues, reporting sales of £4.9bn in the year to February.
If a deal is completed, it would mean an almost complete retreat from international markets for Tesco, which has already abandoned Japan and the US in the past. Its remaining overseas stores would be in Ireland and Central Europe.
After the announcement, analysts described the Thai business as the "crown jewel" of the Asian operation and speculated that a price tag of over £5bn was not "fanciful".
Shore Capital's Clive Black said: "Noting that Asia, Thailand in particular, is a jewel in Tesco's crown, we would expect any interest, should it come through to a transaction, to involve substantial monetary sums, which could in turn result in a material distribution to shareholders albeit remove a key growth strand for the group.
"For any approach to be accepted by the Tesco board for Thailand then it needs to be highly attractive if not a knock out price.
"As such, we do not think it is fanciful to anticipate a take-out price that is in excess of the Asian divisions £5bn sales."
Tesco shares opened up 4.4% to 242.50p.
Morning update
The FTSE 100 started the week in negative territory, falling 0.2% to 7,225.1pts.
Fallers included Unilever (ULVR) down 0.7% to 4,518p, Diageo (DGE) down 0.9% to 3,073.5p, Coca Cola HBC (CCH) down 0.7% to 2,494p and SSP Group (SSPG) down 1.5% to 652p.
Besides Tesco, all other grocers were rising with Sainsbury's (SBRY) up 1.4% to 223p, Marks & Spencer (MKS) up 2.3% to 205.8p and Morrisons (MRW) up 0.7% to 203.3p.
This week in the City
It is another quiet week in the City as Christmas approaches.
Wednesday will see the publication of a trading statement from British American Tobacco with investors to focus on updates regarding the company's e-cigarette operations following the US crackdown earlier this year.
On Thursday, Ocado and PZ Cussons are due to release trading statements, while pub operator Fuller Smith & Turner will publish its interim results.