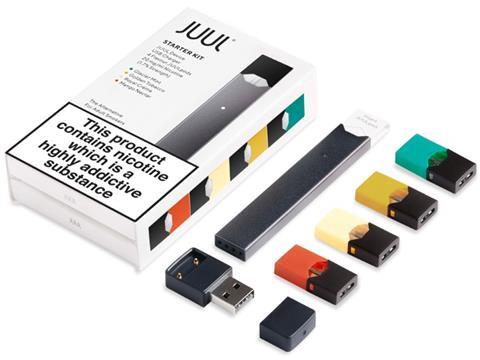 Vaping brand Juul has invested in a dedicated sales team to break into the c-store market.
Having launched in the UK last July through specialist vaping stores and latterly Sainsbury's, the company now sees convenience as a key channel.
To facilitate this, Juul Labs UK will triple its field force by the end of April, bringing the number of business development executives to 75.
"For the UK launch, we followed the same process as we did when we launched in the States in 2015 - get into specialist vape, then into some key accounts before heavily targeting convenience," said Juul sales director John Patterson. "That strategy worked incredibly well for us and Juul now has over 75% of the vape market in US convenience.
"We are incredibly excited about our rollout into symbol and convenience as Juul is a brand that has already resonated with adult smokers in the UK through the vape channel and Sainsbury's. There is a real appetite for the brand and we now want to ensure that current Juul users, and those smokers who want to make the switch from tobacco, can easily find Juul in their local store.
Heading up the new 75-strong team will be Steve Lintott.
Linott said: "Juul is a new product in the UK delivering a different experience for adult smokers. While many companies are scaling down or permanently using third party and sales agency staff to call on the independent trade, we wanted to show retailers that we are committed to growing Juul and the vape category in the UK by investing in our own people. Our representatives will live, breathe and fully understand not only the Juul brand and its mission, but also be experts in the vaping category to help retailers maximise the opportunity, as we aim to improve the lives of UK adult smokers."
In addition to engaging retailers, delivering stock and providing PoS, insight and category education, the new team will enforce Juul's Challenge 25 policy, which all retailers must adhere to.
Lintott added: "At Juul, we are only interested in targeting adult smokers and Challenge 25 is a prerequisite for any Juul retailer. Our mission - to improve the lives of the world's one billion adult smokers - is a big responsibility and we need to ensure that our retail partners, big and small, value our mission and act responsibly."