Tesco CEO Dave Lewis today sent shockwaves through the world of food & drink after announcing he is to quit after five years at the helm.
Here is how analysts and other experts reacted to the news.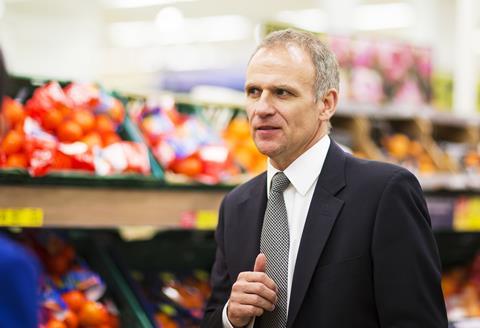 Clive Black, analyst, Shore Capital
"We would imagine that Mr Lewis may have been familiar with his replacement from his Unilever personal care days. Mr Lewis' departure will need to be absorbed by the market, the disappointment of his Chairman is palpable, but put quite simply he is the bloke that saved Tesco, which should go down as an enormous achievement in British retail history. He will also, undoubtedly be a loss to the Group in our view, and so Mr Murphy has big shoes to fill."
David Blair, global CEO, Fitch
"There is no denying that Lewis has cut a somewhat controversial figure since taking up the helm of Tesco in 2014. He has been able to truly transform the fortunes of one of Britain's biggest grocery brands. By not being scared to take risks, Lewis has established an ecosystem of brands and shopping experiences which have improved Tesco's wider offering.
"Now, in an increasingly competitive category, designing a shopping experience that caters for the evolving demands of British shoppers will be integral for Tesco to keep up with its competitors. With discounters like Aldi and Lidl continuing to increase their market share, Tesco won't be able to beat them in a straight race - as made clear by their 'discounter' brand Jack's inability to capture shoppers' hearts in the same way.
"Instead, the next CEO, Ken Murphy, should ensure that Tesco understands what particular experience it can offer to shoppers; one that other grocery brands cannot emulate. By capitalising on its great brand heritage, multi-channel presence and unique range strategy, he is sure to continue the momentum Dave Lewis has created."
Rebecca Crook, chief growth officer, Somo
"Lewis took the helm at Tesco at a disastrous time for them in terms of both industry and consumer perspective with the overstated historical profits announcements of £326million. But he did make some strategic, and arguably quite effective, decisions that followed.
"He closed the US venture (Fresh & Easy) which an outsider could see was the right thing to do. Lewis recognised diversifying would be a good thing and acquired Booker giving Tesco access to new markets such as the hotel and restaurant trade. He also understood that improving and bolstering their online grocery offering would be critical to helping future-proof them.
"He has ended his tenure at a time when the discount supermarket brands are gaining more momentum and market-share, so the fact that their market position is only down from 29% to 27% is pretty good going. The thing with senior level retail CEO's is there is only a small pool of them so they tend to do a few years, make changes and then not always stick around to see the results. Personal reasons have been cited for Lewis leaving so it will be interesting if he returns to grocery again."
Mark Dodds, chair of the Chartered Institute of Marketing FDA Group
"Dave Lewis' leadership has clearly delivered a significant turnaround, both financially and in terms of brand perception.
"The supermarket chain found itself with a challenging market position, having lost ownership of its status as Britain's best value supermarket. However, Tesco's marketers have struck the right tone, especially with their 100th anniversary celebrations.
"Deploying this heritage sets it apart from its newer rivals at a time when Britishness is a powerful asset."
Nick Everitt, director of advisory EMEA, Edge by Ascential
"Dave Lewis did a critical job in getting Tesco back to profitability by effectively turning the business around. However, no CEO is a one-man army and Lewis built a strong team under him, which remains intact.
"His work is now done and it's time for the next phase of Tesco's development, which requires a new leader with a refreshed vision. Ken Murphy has some tough calls to make as there are some big questions hanging over Tesco right now. What is its international business footprint going forward? What is its long-term plan for ecommerce and digital? These things are currently unclear. It takes a new CEO to address these points and build on the stable foundation that Lewis created.
"It's a fine balance that Murphy must strike. He has to stamp his authority on the business but bring the existing leadership team with him, maintaining the momentum that Lewis started. If he can do this, Tesco will find a way forward."
Ray Gaul, SVP of Retail Insights at Kantar
"In line with Mr. Lewis's core focus, Tesco has done an extraordinary job of generating cash and using much of that to reduce levels of net debt.
"Looking ahead, we would expect more of the same from Dave Lewis as he helps prepare Ken Murphy to take over and take the group in new directions. Undoubtedly in June next year Tesco will have lower levels of debt and better cash fundamentals than it has today."
Robert Hayton, head of UK business rates, Altus Group
"Lewis has worked tirelessly to gather sectoral support to increase the pressure upon the government to level the tax playing field between physical shops and large online retailers."
Richard Lim, chief executive, Retail Economics
"This surprise news will send shock waves through the industry. Upon arrival, Dave Lewis faced the momentous task of restoring the UK's largest retailer to vitality. A laser-like focus on the core food business, disposal of international assets and a ruthless approach to cost-cutting has left the retailer in a much more commanding position. The revival strategy is already well under way following the acquisition of Booker, but he is leaving some mighty big boots to fill."
Bruno Monteyne, senior analyst, Bernstein
"Dave Lewis cites personal reasons and that he is not leaving for another job. None of us really know why he is leaving and this question will be high on investors mind. Equally his replacement Ken Murphy will be relatively unknown.
"The recovery thesis has worked. The only unknown is the new leader to stand over this phase II of the Tesco equity story."
Russ Mould, investment director, AJ Bell
"Three cheers for Dave Lewis, the man who stopped Tesco from sinking into a deep hole. The departure of one of the most highly-respected bosses in UK business is not a surprise given his turnaround efforts now seem to be bearing fruit. He has made some very difficult decisions which, while painful, have put the supermarket back on track.
"He hasn't been afraid of trying something new, as evident by the Booker acquisition and the launch of the Jack's value brand. The jury is still out on Jack's but it is clear that Lewis has been a man who has constantly rolled up his sleeves and explored every possible avenue to sharpen Tesco's proposition.
"Very few chief executives are good at both fixing and growing a business as these tend to be different skillsets. Lewis' successor Ken Murphy will have to focus on the growth part which is not going to be straightforward. He's coming from Boots which has also been going through a big cost cutting programme amid pressure on earnings. Murphy will therefore need to change his mind-set from recovery to growth as soon as he joins Tesco next year."
Graham Spooner, investment research analyst, The Share Centre
"Results this morning have been overshadowed by the unexpected news that Dave Lewis is stepping down as CEO next year, with Ken Murphy taking over the reins. With the turnaround plan now complete he feels it is the right time for him to leave with the date set for next summer in order to plan a smooth and orderly succession.
"Investors appear not to be too concerned with the change at the top and are instead concentrating on the solid results."