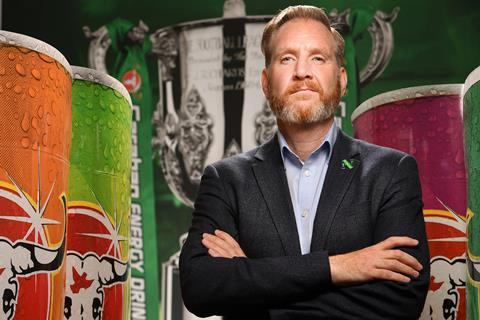 What was your first job? At primary school, my friend Nick and I set up a car wash 'company' to clean the cars in our neighbourhood.
What's been your worst job interview? Many years ago, I had an interview for a marketing role with Boots. I'd made my mind up that I didn't want the job whilst sat in reception, so as you can imagine, the interview itself was horribly awkward.

What was the first music single you bought? Stand and Deliver by Adam & The Ants.

How do you describe your job to your mates? I'd describe it as bonkers but in a good way.

What is the most rewarding part of your job? Seeing people on the street drinking Carabao.

What is the least rewarding part? I absolutely hate filling in expenses claim forms. As I write this I'm thinking there must be an app for that…

What is your motto in life? YOLO.

If you were allowed one dream perk, what would it be? Monthly visits to our head office in Bangkok.

Do you have any phobias? Cashews and pistachios, as my daughter is allergic to them.

If you could change one thing in grocery, what would it be? Providing suppliers with more opportunities to run bespoke activity rather than having to buy off-the-shelf solutions.

What luxury would you have on a desert island? Netflix.

What animal reflects your personality? A leopard. Athletic, broad diet and freckles.

What's your favourite film? It's an impossible ask as I have so many, but if I had to list a few, then I'd say: Control, The Life Of Brian, Wizard of Oz, The Omen, The Inbetweeners, Pulp Fiction, The Beach, 8 Mile and Schindler's List.

What was the most embarrassing moment in your life? After helping to launch Time Out magazine in Delhi, I was invited on an Indian chat show. I was sat on a sofa surrounded by Bollywood film stars and models, so as you can imagine, I felt (and looked) completely out of place. It was 15 years ago and it still makes me cringe to think about it.

Which celebrity would you most like to work with? Jürgen Klopp. I'd like him to give me a pep talk (and one of his special hugs) every morning.