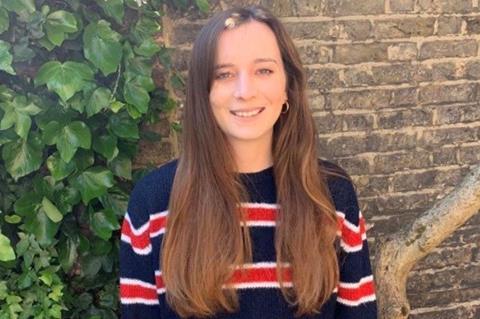 Name: Anna Draper
Age: 25
Job title: Brand manager
Company & location: Little Moons, London
Education: History at the University of Bristol
Why did you decide to go for a career in food? Aside from really enjoying eating, I knew that I wanted to work in marketing and most of my favourite brands were F&B companies, so it felt like a natural move. I really enjoy the complexities of fmcg marketing. On one hand you have a huge opportunity because you're on shelf, in touching distance of your consumer, but you're equally challenged because you need to make the consumer reach for your product rather than anything else. This tension for marketers is fascinating.
Explain your job to us in a sentence (or two): My job is to get the Little Moons brand in front of as many people as possible, ensure these interactions leave a lasting and positive impression and that everyone falls in love with us! Making Little Moons a household name is my ultimate goal.
What does a typical day look like for you? It's such a cliché but every day really is different, which is a big part of why I like my job so much. As we make ice cream, it can be quite seasonal so summer is hectic with the focus on events, sampling activations and pop-ups, while in the colder months I might focus more on packaging, bigger branding projects and our digital strategy.
Tell us about how you went about applying for your job. I got my job through Young Foodies so it was a fairly straightforward process, but I remember leaving the interview excited, really wanting the job and already in love with mochis. Vivien and Howard, the founders, were super-engaged in the process and so passionate about the brand. Plus they asked a really funny mix of questions like would you rather be a dragon or own a pet dragon, how many cups of coffee a day do Londoners drink and who is the cleverest person you know (I said my dad).
"I remember leaving the interview excited, really wanting the job and already in love with mochis"
What's the best part about working for a food company? Food is one of the most exciting industries. There are always new trends and product innovations and, from my experience, it attracts intelligent, passionate people who are more than happy to share their knowledge and experience with the junior people in the team. It's fast-paced and multi-faceted, so you get to experience so many things, from supply chain management to creating large-scale consumer activations.
And what's the biggest misconception people have about working in food & drink? That I spend my days eating ice cream. Which is only partly true.
What advice would you give to other young people looking to get into the food & drink industry? There are lots of brilliant companies that can help you get your foot in the door. I got my job through Young Foodies and Escape the City is great for internships and entry-level roles. Once you've got the job, my biggest piece of advice is just to say yes to everything and get your hands dirty. Be the person that the rest of the team trusts and wants to have involved in their projects.
What's your ultimate career dream? I'm still figuring that one out but Little Moons is on a really exciting journey and I want to play my part in that for the foreseeable future.