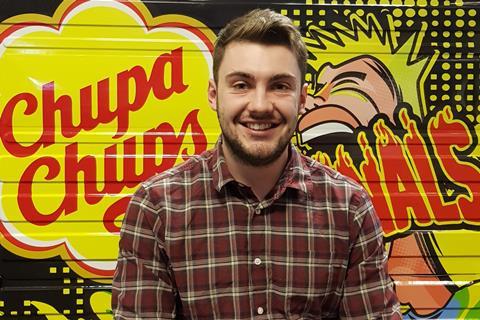 Name: Ben Theobald
Age: 24
Job title: Product manager (Chupa Chups UK)
Company & location: Perfetti Van Melle, Windsor
Education: University of Surrey studying business management
Why did you decide to go for a career in food? Food is a big part of my life. It's something to get excited about, something that gives us comfort, something that's nice to share. It's these elements that drove me to a career in food marketing. The industry is fast-paced and there's also a real satisfaction in taking a product from its early development stages to being on shelf (or an online shop).
Explain your job to us in a sentence (or two): My job is to bring the latest confectionery innovations developed by Perfetti Van Melle to the Chupa Chups brand in the UK. From early concept to the launch and above the line support, my role touches the product at every stage of development.
What does a typical day look like for you? I'm an early bird in the office and kick-start my day by getting under the skin of Chupa Chups. My morning could be spent doing anything from researching the latest flavour trends to finding out who the biggest new teen icon is. I try to stay on top of the industry to make sure we're bang on target when it comes to our audience and NPD ideas. New products can take years to develop so I'm keen to spot niche trends before they become mainstream.
Lunchtimes are dedicated to burning off some steam at the office table football championships (I'm losing!).
No two days are the same here, my afternoon could be spent taste testing, popping into London to review our latest media plans, or even catching up with the global team to see how the brand is performing in other markets. It's a busy role that keeps me on my toes, I couldn't enjoy it more. After work I'm often at the pub with friends, or on the sofa – despite promising myself that more of 2019 would be spent down the gym.
"Fmcg is unique in the sense that it's so diverse, so rapidly on the move and gives you a breadth of experience like no other industry"
Tell us about how you went about applying for your job. I'd been working for a start-up company for 18 months, when my marketing manager at the time mentioned how much he had loved his job at Perfetti Van Melle, citing the Chupa Chups brand in particular.
After seeing the role advertised on LinkedIn, I applied and went through a two-stage interview process. The first stage was much more of a chemistry meeting with the marketing manager and HR manager, while the second was more skills-led. I had a case study to work through where I had to use IRI data to present my thoughts on next steps and strategy. An agonising fortnight later and my agent called to say the job was mine – a mixture of nerves, joy and pride are the three emotions I remember feeling when I took that call.
What's the best part about working for a food company? Well it's hard to deny that working surrounded by confectionery isn't a bonus of being part of the PVM team. But the real benefit of working in food is that no business has the same opportunities and challenges. Fmcg is unique in the sense that it's so diverse, so rapidly on the move and gives you a breadth of experience like no other industry. The things I'm learning today and the things I will learn in the future will no doubt set me in good stead for a happy and successful career.
And what's the biggest misconception people have about working in food & drink? The biggest misconception is that we're able to make brand changes at the flick of a switch, when in truth it takes real planning, commitment and dedication from the whole company. We're early innovators at Perfetti Van Melle, we try to ensure we're anticipating industry-wide challenges well in advance. For example, we introduced Sugar Free Chupa Chups in 2017, and now that the market demands a wider variety of choice, we're already in a great position.
Change takes time and drive and working to bring a new product or format to life takes perseverance from us all – at the moment we're looking at green issues which is really exciting and will be in line with the industry's changes in years to come.
"I was determined to make my part-time job at Waitrose work for me. I asked for contacts in the marketing division and within three months I'd secured four weeks' work experience"
What advice would you give to other young people looking to get into the food & drink industry? Build your CV as early as possible, and use every single opportunity you have to gain experience. For me it all started when I worked for Waitrose as a supermarket assistant in the fresh section. I knew at 16 that I wanted to work in marketing and advertising, so I was determined to make my part-time job work for me. I spoke to my store personnel manager in HR, and asked whether she could provide me with any contacts at head office in the marketing division. Within three months I'd secured four weeks' work experience. I enjoyed it so much that when I was 18, I went back for a further six weeks and got to work with product developers and brand managers on specific projects. What counts is people, relationships and passion. Get as much exposure to those three things as possible and someone is sure to spot the talent!
What's your ultimate career dream? I have two dreams and it changes on a weekly basis. The obvious route is to continue my current journey, the dream being 'head of brand' or 'marketing director'. I'd like the opportunity to lead a strategy, but also mentor the people who ultimately achieve the goal. There's something warming about the idea of using your years of experience to better those around you and inspire the next generation.
The second option is to get investment for a zero-waste store, build a retail empire and invest the profits into green technology and upskilling young people from disadvantaged backgrounds (so, a pretty hefty project which will take some serious energy and courage).