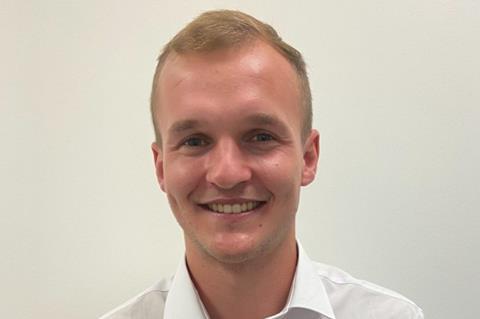 Name: Calum Brown
Age: 24
Job title: Commercial development co-ordinator
Company & location: Scotland Food & Drink/Brakes Scotland, Newhouse, Motherwell
Education: MA Economics, University of Glasgow
Why did you decide to go for a career in food? My interest in a career in food stemmed from my love of local and regional produce, which developed largely through travelling. While going through education I never saw food as a career per se, but more of a hobby. After coming across the role at Scotland Food & Drink/Brakes last year I saw an opportunity to combine an interest of mine with a career. It makes it a lot easier to get up for work on a Monday when your job is also something you're interested in!
Working closely with smaller businesses is motivating, and creating close relationships with suppliers is something I've come to really enjoy. The food and drink industry is extremely fast-paced, with consumer attitudes and tastes evolving constantly. This means no two days are the same – variety is something I really looked for when looking at career options.
Explain your job to us in a sentence (or two): I work closely with Scottish food and drink businesses to ultimately grow their sales through the foodservice channel. This can involve marketing, buying, selling, hosting events and everything in between.
What does a typical day look like for you? Because the foodservice industry is a 24/7 operation and things move quickly, there is no such thing as a 'typical' day. However, most days will include monitoring products coming in and out the depot, analysing sales, communicating with suppliers, researching new products and planning marketing activity for the months ahead.
Tell us how you went about applying for your job. I first came across the role advertised online as part of the Scotland Food & Drink graduate programme. They were looking for graduates interested in a career in food who could help build connections between Scottish suppliers and retailers. I submitted my CV and cover letter outlining my interests and why I thought I would be successful in the role. I had a first-stage interview with two members of the Scotland Food & Drink team, where I learned more about what it would be like to work there.
I was then given the task of reviewing the Brakes Scotland catalogue and identifying a product I thought was missing in its range. I had to give a presentation on why I chose the product and how I would approach launching it and growing sales. I was quizzed on my choices and motivations, which was probably the toughest part of the process.
"I love having the opportunity to work with some of the best producers from across Scotland"
What's the best part about working for a food company? I love having the opportunity to work with some of the best producers from across Scotland, and it's hugely motivating to see a product go from farm to restaurant table. I also wanted a job with variety, and that's a big part of working in this industry – not just variety in products, but also in strategies, customers, and approaches to problems. And, it should go without saying that getting to eat and drink some of the best Scotland has to offer is a bonus as well!
And what's the biggest misconception people have about working in food & drink? I think the biggest misconception people have about the food and drink industry is that it's just hospitality and nothing else. There's an entire industry that works behind the scenes and hospitality is just a small part of that. There are a variety of roles available from product development to logistics, with each part being distinctly unique but all interconnected. It's easy to walk through the supermarket or browse a restaurant menu without considering the process by which those products got there in the first place.
What advice would you give to other young people looking to get into the food & drink industry? I'd urge young people who have an interest in the food and drink industry to go for it – we need young people to help keep businesses at the forefront of market trends. With such a wealth of roles and businesses out there, the opportunities are massive, especially if you want to gain great business experience while being creative. The industry is full of passionate people with a wealth of experience who want to share their knowledge. For young people starting their career, this offers an excellent opportunity to learn and grow.
What's your ultimate career dream? I'm still early in my career but I'd love to one day own my own business, maybe one that involves food and drink. I've met some great people in my short time here, so the chance to continue working with them in one form or another would be great. Travelling is a real passion of mine so I'd also love to take Scotland's food and drink offering abroad.