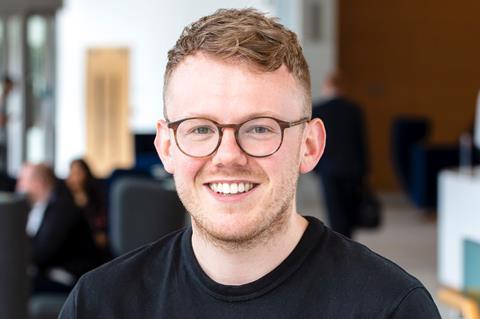 Age: 25
Job title: Product developer
Company & location: Co-op Food, Manchester
Education: BSc (Hons) food & nutrition at Sheffield Hallam University
Why did you decide to go for a career in food? I've loved food from a young age. Food is a big part of everyone's life. For some it's fuel, but for me it is a social occasion, a passion and something to get excited over.
I have vivid memories of baking up a storm with my grandma in the kitchen and still now, I don't think you can beat her gingerbread. Going into secondary education with a passion for cuisine and baking, I was really inspired by my food technology teacher, and the more she talked about the food industry and the breadth of opportunities, the more I felt this was the perfect job for me.
Fast-forward seven years since completing my A-level in food, I've completed a degree in food & nutrition, and gained experience in foodservice, manufacturing and now retail.
Explain your job to us in a sentence (or two): I take food products from an initial concept, driven by food trends and consumer habits, to a physical product available to buy on Co-op shelves around the country. Through this development process I have regular interactions with a number of stakeholders, be that internally with our technical, commercial, agriculture and marketing teams or externally with our suppliers and industry bodies.
I'm currently developing a number of protein categories, including summer BBQ and meals for tonight.
What does a typical day look like for you? No two days are the same for me at Co-op, and I absolutely love that.
One day I might be in our kitchens at Co-op HQ, sampling new products, benchmarking ranges or carrying out quality panels. The next I might be on the road visiting my suppliers, digesting the latest market insights, developing new concepts or stood on the factory line ensuring our product is consistently high quality and great tasting.
I might even be out on one of our producer group farms getting closer to the product and our fantastic farmers who supply our protein sources all year round.
I'm lucky that I get the opportunity to travel and eat in some of the best restaurants globally. I've recently returned from an innovation trip to New York, eating my way through a number of restaurants, street food vendors and retailers, helping me to build the category vision for my product areas of the next few years.
The role is incredibly fast-paced. It certainly keeps me on my toes, but I couldn't enjoy it any more.
"My mum works in a Co-op store, so I've been brought up with my fridges stocked full of Co-op product"
Tell us about how you went about applying for your job. How many stages were there, what did you have to do? Any particularly tough questions? I've followed Co-op since childhood as my mum works in a Co-op store, so I've been brought up with my fridges stocked full of Co-op product. I had an alert set up on the online jobs portal to notify me when any new roles within food product development were live.
I was running away on the treadmill, and my phone buzzed with a notification of a role available. I darted home and filled in the online application form, which was super-simple to complete, alongside uploading my CV.
I was then invited for an interview, for which I had to present my three-year strategy for the pizza category, detailing the short, medium and long-term ambitions for the category, utilising market data and consumer trends.
The next day, I was invited back for an informal chat with the head of product development, and then fortunately I was offered the role.
At Co-op, it is all about personality. They are looking for confident, passionate and dedicated individuals so there was a focus on getting to know me as person in order to see whether I would fit with the brand ethos.
What's the best part about working for a food company? Of course, being able to taste some of the best food the world has to offer is a fantastic perk of the job. But if I had to choose one thing, it would be the ability to influence the food choices of UK consumers.
Spending nine months developing a product from concept to launch, there is no greater feeling than going out to our stores and seeing customers picking up my products. It is such a good feeling to see customers positively responding to your work, and even more so when media publications pick up on your product development.
And what's the biggest misconception people have about working in food & drink? That it's difficult to ensure the highest quality and provenance when producing food on a large scale. This couldn't be further from the truth. Our food quality and sourcing standards at Co-op are something we are really proud of – we use 100% British fresh meat all year round, all of our pork is from RSPCA Assured outdoor-bred pigs and you will only ever find free-range eggs in egg-containing products, to name but a few of our credentials.
What advice would you give to other young people looking to get into the food & drink industry? Take every opportunity offered to you, build your CV as early as possible and don't be afraid to push yourself outside of your comfort zone.
I took a 12-month technical placement despite the fact I had my heart set on working in product development. Those 12 months allowed me to see a completely different side to food manufacturing and have been really beneficial when moving into another area of the industry.
The food industry is a big place, and there are a huge number of roles available to you. When applying for a role, do your research. Find a company that works for you. I chose to apply to Co-op because of its company ethos and community values. I knew walking into the support centre (our name for HQ) on day one, that I was in a company where I could be myself always.
What's your ultimate career dream? I've always been a work-driven and ambitious person, so I'd love to see myself progressing to a head of food role. To be able to a lead a passionate team of colleagues who are step-changing the food offering of a business, that's my dream.
I've got a long way to go before achieving this dream. Key to getting to this level is gaining as much experience and taking every development opportunity along the way, as well as networking with the inspirational leaders of today and like-minded leaders of tomorrow. I'm very lucky to be inspired by our director of food and our food CEO on a day-to-day basis.
I'd love it if one day the generation of tomorrow viewed me as an inspiring leader/mentor.