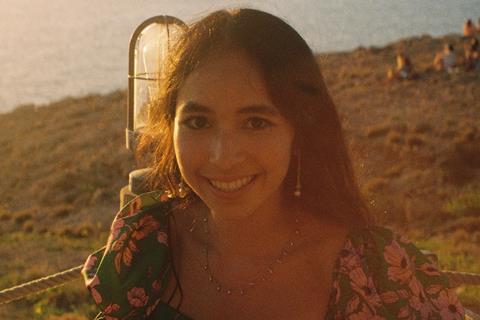 Name: Deanna Chaytor
Age: 24
Job title: National Account Manager
Company: Mallow & Marsh, London
Education: University of Edinburgh, Geology and Physical Geography

Why did you decide to go for a career in food? My fascination for the food industry began in the last year of university. I've always loved cooking and exploring new restaurants and cuisines and was surrounded by a lot of friends that had dietary requirements. I was also more conscious with what I was eating, and started looking at alternatives, from the daily essentials like milk and pasta to snacks and ice cream. I began exploring the supermarket shelves, and even created a food Instagram to follow brands and to post about my own findings, spending hours researching food brands. I couldn't imagine not working in this fast moving, innovative industry and knew that I had to be involved.
Explain your job to us in a sentence (or two): I work in the sales team, both managing and finding new customers in foodservice – from gyms, forecourts, convenience, hotels, offices, hampers, almost anywhere you'd pick up a sweet treat that's not in a supermarket or online.
What does a typical day look like for you? Every day is so unique, which is what I love the most about the role. It's very customer focussed and I'm constantly meeting new people (virtually). A large part of the role is obviously selling, which involves researching, reaching out to potential customers and closing deals. I also manage the relationships with our current customers by ensuring that they've ordered to plan. I monitor our performance and work closely with our customers to grow our sales, both through landing new customers and through marketing opportunities – including creating promotional plans, exploring point of sale opportunities and additional activities.
"I couldn't imagine not working in this fast moving, innovative industry"
Tell us how you went about applying for your job. I found the role advertised on LinkedIn and sent over my CV. I had a phone interview shortly after with the founder. The second stage was a face to face interview with one of the account managers, which involved a commercial test and general interview questions. The final stage was held with the founder, where I had to prepare a presentation on a plan for how to boost sales in a current retailer. I enjoyed preparing the presentation as I had just finished interning at a drinks company and could use some of my recent experience.
What's the best part about working for a food company? All the free food you get and people you meet from different brands! It's been tough with the pandemic, but the best part of it is the brand-facing events, such as the trade shows and sampling events we visit and also host as a brand. They're great, as you get to meet customers and lots of other brands, get to try out new products, network and make others fall in love with your brand.
And what's the biggest misconception people have about working in food & drink? The biggest misconception is that people think we're just on the street or phone selling marshmallows to anyone and everyone. It is actually much more complex and involves understanding the end to end process of the product, getting involved in marketing plans, operations (to manage how much you think you can sell) and lots of numbers!
What advice would you give to other young people looking to get into the food & drink industry? Definitely research the industry and try to understand the competitive landscape. I'd recommend walking around a few supermarkets and try to think about where and why brands are positioned as they are and if anything stands out on the shelf.
What's your ultimate career dream? I'm moving over to e-commerce soon, which I'm extremely excited about. There's lots to learn, but so much opportunity! I love selling and being part of growing a brand. I'd really like to start my own business one day and create a unique product.