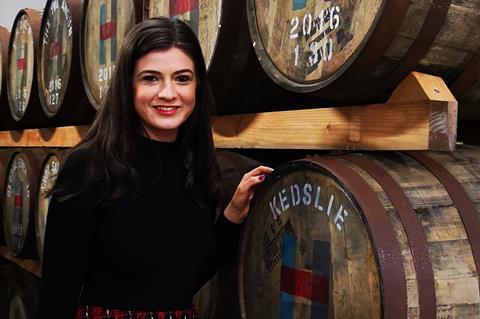 Name: Iona Cairns
Age: 24
Job title: Brand ambassador
Company & location: Isle of Harris Distillers, my role is based in Glasgow as I cover the west coast of Scotland
Education: I went to Kirn Primary School and Dunoon Grammar School, both in my hometown of Dunoon, Argyll, a small seaside town in the west coast of Scotland. I then moved to Glasgow at the age of 17 to study at the University of Strathclyde.
Why did you decide to go for a career in food & drink? I have always had a love of the hospitality industry, since working in my family friend's restaurant while still in school and through holidays at university. This gave me a good insight into the food and drink world and when I finished my degree it was a career path I was really eager to undertake.
Explain your job to us in a sentence (or two): My role as brand ambassador consists of working with our on-trade accounts and click & collect partners. Part of my role is to build strong relationships with our customers and this often results in hosting and organising event collaborations.
What does a typical day look like for you? A typical day usually starts off sitting in front of the laptop, catching up on emails, calls and admin tasks. I then take to the streets of Glasgow and visit our accounts – often I have meetings arranged or something to pick up or drop off. It soon becomes five o'clock, and if I'm not setting up for an event or Isle of Harris gin tasting, I can sometimes enjoy an Isle of Harris G&T myself!
Tell us about how you went about applying for your job. My brother actually spotted the job advert on the distillery's social media and shared it with me. I was excited at the prospect and started on my cover letter and CV straight away, I was delighted to then be asked for an interview a couple of weeks later. I took time to prepare and read up on everything about the Isle of Harris Distillery, understanding their social values and what they are doing for the community on Harris. There was then a second interview – the tough part of this was acting out how I would deal with a work scenario as I had to think quickly on the spot. Luckily I got through it, keeping my nerves in check, and I was delighted to be offered the role.
"Everyone is very passionate about our 'social distillery' and what we are trying to achieve for the island"
What's the best part about working for a food company? The people. We are so lucky on Harris to have a lovely team, everyone is very passionate about our 'social distillery' and what we are trying to achieve for the island. There is a great sense of belonging and we all work really well together as a team.
And what's the biggest misconception people have about working in food & drink? I think it is a misconception that we just pour and serve drinks all the time! While that is often one of the most sociable and enjoyable parts of the job, there is a lot of time spent in preparations for these events and several other duties to fulfil in the working week.
What advice would you give to other young people looking to get into the food & drink industry? Go for it! It is a great industry to get involved with and a fantastic way to meet people and learn new skills. I thoroughly enjoy my job – every day is different, making it a very exciting role.
What's your ultimate career dream? To continue to progress in this industry with the Isle of Harris Distillery, spreading our story and sharing our gin!