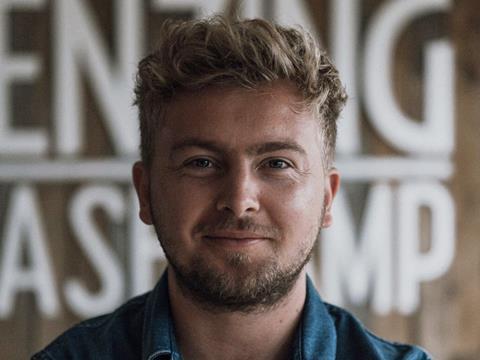 Name: Jack Flower
Age: 25
Job title: National Account Manager
Company: Tenzing Natural Energy, London.
Education: Sport Marketing at Leeds Beckett University
Why did you decide to go for a career in food?
I love trying everything - literally everything
I've always been fascinated by what people eat and drink. I also love trying everything - literally everything. As a keen sportsman, I know the importance of healthy food and drink. That's why Tenzing is such a great fit for me. It's a healthy alternative in a very unhealthy category.
Explain your job to us in a sentence (or two):
It's our mission to elevate the human spirit with energy that is good for body, mind and planet. My role is to make us available in the places where people need energy and care about their health. My main areas of focus are health & fitness, business & industry, healthcare, government, defence and higher education.
What does a typical day look like for you?
You can usually find me in one the Citizen M hotels around London grabbing some wifi and drinking a Tenzing. I'll probably be on the phone in the morning following up on opportunities to get stocked in a variety of fridges across the UK. I'm often trying to squeeze a meeting with a buyer either by phone or in person to catch up, update or sell in. It's a mix of ensuring we understand how we can drive value, our strategy with each customer and that key decision makers know exactly why Tenzing should be in their fridges.
Tell us about how you went about applying for your job. What was the process like?
A friend told me about Tenzing and recommended I get in touch to be involved from the start. I met Huib (the founder) and tried my first can of natural energy. We had a casual conversation in our first meeting about my experience and my life to date. Huib has a great question that I've also adopted when interviewing, which is "tell me your life story from when you were born to present day". It demonstrates your ability to highlight key moments and perhaps share why you're here right now. After that, we had one phone call and met again, at which point I had to build and present a sales strategy to win new business (by channel) and forecast for the year. Not your traditional interview! I was officially employee number one, which is of course very cool.
What's the best part about working for a food company?
For me it's about making a difference. Before Tenzing was around and you needed some energy, all you could get was synthetic, sickly, sweet drinks. We want to energise people in a healthy way. When I managed with the team to get us into 100 NHS hospitals and they even decided to out the high-sugar energy drinks, that was just extremely fulfilling.
Also, my fridge and cupboard are always full of awesome brands - happy days.
And what's the biggest misconception people have about working in food & drink?
Things don't happen without you making them happen.
Working and more importantly succeeding within food & drink is all about being extremely pro-active, particularly within a smaller brand. Things don't happen without you making them happen. It's not reactive at all - I think people think it is sometimes.
What advice would you give to other young people looking to get into the food & drink industry?
Network. It's your biggest tool in this industry. Ask connections for a coffee and pick their brains. I've found people really do enjoy being asked to share knowledge - it's a nice feeling to help others starting out.
What's your ultimate career dream?
Build an incredible brand with an incredible team. One with a purpose at its core and one others look to for creative ideas, not just in marketing but sales strategy too. I'd also love to start my own craft beer company… one day.