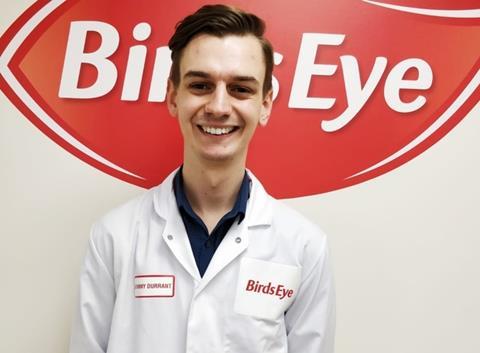 Name: Johnny Durant
Age: 23
Job title: Assistant product development manager
Company & location: Nomad Foods (Birds Eye, Aunt Bessie's and Goodfella's), Lowestoft
Education: Food science BSc, University of Leeds
Why did you decide to go for a career in food? At school, food technology was my favourite subject. I loved the creative outlet it gave me to experiment with new flavours and textures and I'd be so excited to share my creations with family and friends. At my sixth form there wasn't an option to pursue food technology, so I continued cooking at home and instead focused my studies on the sciences where I developed a keen interest in chemistry.
When investigating my university options, I couldn't believe my luck to find the 'food science' course – the perfect marriage of my passions! The course strengthened my curiosity in the topic. I had such a strong desire to share my creativity and newfound knowledge, I decided to pursue a career in product development.
I was thrilled to be given the opportunity to build upon these skills with a placement year at an international organisation – Nomad Foods (Birds Eye, Aunt Bessie's and Goodfella's) – and have continued to learn and develop as an individual every day since joining the company on a permanent basis last year.
Explain your job to us in a sentence (or two): I work as an assistant product development manager within the R&D team at the Lowestoft factory site. In this role I work across both the UK and poultry teams and am responsible for a wide product portfolio including potato waffles and chicken nuggets. It's such a varied role and I benefit from working with many departments within the organisation. I work closely with colleagues in quality assurance, factory planning, line operatives and procurement.
What does a typical day look like for you? There is no such thing as a 'typical day' and this is the reason I love my job so much. I could be researching red meat protein structure, developing bench prototypes of the next-generation chicken burger, building specifications for a new Steamfresh vegetable product, or trialling a new potato waffle recipe in the factory.
Tell us about how you went about applying for the job. I originally started at Nomad as a placement student in my third year of university. Our course employability officer emailed about the opportunity and I was eager to pursue the chance to work for a household name such as Birds Eye. The application process was as you would expect from an international fmcg brand – there were a number of interviews and a practical assessment. I distinctly remember the company head chef telling me a story of how a former placement student accidentally covered herself in garlic powder during a pilot plant trial! I wonder if he now tells prospective students about the time I accidentally coated myself in mashed potato to test their commitment…
"The vision of bringing moments of happiness to our consumers is what really drives my passion for this job"
What's the best part about working for a food company? The best part for me is knowing that I'm developing products that will soon be enjoyed by thousands of consumers across the country. I believe good food can bring out a child-like joy and excitement in all of us, and the vision of bringing such moments of happiness to our consumers is what really drives my passion for this job. For me it's also gratifying to be working on products that provide healthier meal choices to the mass market, and for a business with strong sustainability credentials such as leading the way on MSC fish sourcing and educating consumers that choosing frozen can reduce food waste.
What's the biggest misconception people have about working in the food industry? That I must be a highly trained professional chef! I would say I'm a reasonable home cook, but I'm regularly blown away by what our company chefs achieve in our kitchens. As a product developer I approach cooking and recipe creation with a scientific lens, focusing on compound interactions, optimising product quality and performance, and ensuring scalability to industrial production.
What advice would you give to other young people looking for a food & drink job? Pursue opportunities with food and drink businesses that you love and demonstrate your enthusiasm for their brand and products. Most companies will have information about their business culture, ethos and vision for the future on their websites – find which of these resonate with you personally and chase these opportunities! Don't be afraid to pursue these hard – persistence can go a long way.
What's your ultimate career dream? To be honest I still feel as though I'm in the infancy of my career, but I want to continue pushing and stretching so that every day brings a new challenge. I'm still learning as much about myself as I am about the food and drink industry, and though I don't yet have a defined ultimate career goal, I'm very excited to see what the future holds. In the short term I'm eager to see the new products I have been working on hit the supermarket shelves in the coming months (watch this space!). Medium term I would like to work towards a management position so I can introduce other young, ambitious graduates into the exciting world of food and drink R&D.