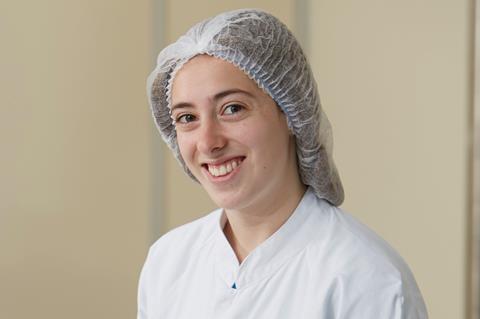 Name: Katie Lloyd
Age: 23
Job title: Application group specialist
Company & location: Nestlé, York
Education: Currently studying Food Industry Technical Professional Degree Apprenticeship at University of Lincoln, which includes Food Science BSc
Why did you decide to go for a career in food? Growing up I never really knew what I wanted to do and was always changing my mind. However I always loved baking and experimenting with recipes for my family to try, their favourite being my brownies! When I got to GCSEs I took home technology, and that with the passion from my teacher made me more interested in the food science side of cooking as well as nutrition. This led me to take the Leiths food and wine course, which only made me more passionate about food. I decided I would like to work in the food industry and then found a confectionery apprenticeship at Nestlé and have never looked back.
Explain your job to us in a sentence (or two): My job currently entails so many different things. The main job I do is renovating current products, such as coming up with new flavours for existing bars like the new Maple & Pecan Matchmakers launched for this Christmas. The other side is developing new products such as the new Milkybar Mix Ups which were launched earlier this year. We'll take a scope from the marketing team and look at how we could go about making this product in a factory setting. We'll develop the product in a pilot plant kitchen before scaling it up and helping to implement it into the factory.
What does a typical day look like for you? Every day is different for me in the innovation and renovation (I&R) team at Nestlé, which is what makes it so exciting. Some days I will be working in the I&R kitchens experimenting with new flavours and concepts to come up with sensational bars. Other days I can be trialling in the factory, working with the operators to implement a new product or testing a new recipe for one of our classic products. I feel incredibly lucky that I'm part of such a supportive team, who constantly challenge my knowledge on confectionery and ensure there are many opportunities for me to enhance my learning.
I also promote apprenticeships inside and outside of Nestlé which is something I'm extremely passionate about, having had the best start in one. This has led me to many incredible opportunities, from attending the House of Commons representing Nestlé to featuring in a Cosmopolitan article talking about my apprenticeship and encouraging others to consider them.
"I can't think of any other industry which is made up of such a tight group of professionals"
Tell us about how you went about applying for your job. When I found my apprenticeship on the Not Going to Uni website, I was weeks away from going to university to study primary education. I immediately applied as from the title – 'Do you like chocolate?' – I knew it would be perfect! I had to answer a series of maths questions online, as well as go through a situational strength questionnaire. I was then asked to go to an assessment centre day, where a group of us went through some ice breaker sessions, a group activity, interview and a chance to make some Kit Kats in the I&R kitchens. At one point during the day, where I was making more of a mess than a Kit Kat, I thought there was no way I was going to get offered the job. But I loved the whole experience and relaxed into it, talking to the confectioners about their work and how exciting it must be to be responsible for the new product development work behind a company as big as Nestlé. It was only when I was offered the job that I realised the whole day was based on seeing who had the right personality to work well with the team, and the potential to become the future of I&R at Nestlé, rather than seeing who could temper chocolate neatly on their first try!
What's the best part about working for a food company? There is always something to learn! When you start in a food company there is so much more going on than you ever think about when you're just a consumer. I also love experimenting with different flavours and there is no greater feeling than when you see a product you have worked on sitting on shelves in shops. Of course, being able to say you taste and develop chocolate for a living is pretty amazing as well!
And what's the biggest misconception people have about working in food & drink? I think a lot of people don't really consider the science and technical side of food and drink when they get the end product, or how much work has actually gone on behind the scenes. Food and drink isn't just making sure machines run and watching product come out well at the end. You have so many different functions, from quality teams to procurement to marketing and finance, all of whom have to know their product inside out and work together to achieve a perfect bar of chocolate.
What advice would you give to other young people looking to get into the food & drink industry? I would say have a look at all the different sectors there are within the food industry. There is so much out there when you start looking and there will be something that appeals to you more than something else. Apprenticeships are a great gateway into the industry, as you learn all the skills on the job and get a funded education. From there you can work your way up to whichever level suits you best. The biggest piece of advice I could give to someone wanting to get into the industry is to be yourself 100% and give honest answers – in all likelihood they're going to be looking for a genuine, confident person who shows passion for what they do or want to do. The great thing about the food industry is that there is always someone there to support you and offer advice, I can't think of any other industry which is made up of such a tight group of professionals.
What's your ultimate career dream? I have just finished my apprenticeship and up till now I haven't really thought about the wider picture. Now I see I have so many opportunities open to me, it's difficult to decide where I want to go! At the moment I want to continue learning and developing my confectionery skills to one day become head confectioner in the I&R kitchens in York.