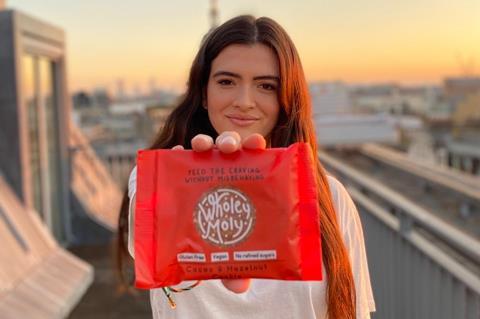 Name: Lili Wiranatha
Age: 22
Job title: Sales and marketing intern
Company & location: Wholey Moly, London
Education: Global Management BA (Hons) Enterprise and Innovation at Regent's University London
Why did you decide to go for a career in food? Growing up in Indonesia, having an Asian father, food has always been at the heart of our family and culture. I have always been a massive foodie! It helped that my family also worked in the F&B industry, which encouraged me to develop a keen eye in the field from a really young age.
I realised, however, when I was living in Australia, that my passion was really for health food. Their innovation in the health and wellness food space inspired me and really consolidated my love and appreciation for health-related food and beverage products. I knew then it was definitely a career path I wanted to explore!
Explain your job to us in a sentence (or two): I'm fortunate enough to work in a small team at Wholey Moly, where I have the opportunity of working directly alongside the founder. I mainly look after the company's marketing and field sales activities, but working for a startup means I get the chance to be involved in all aspects of the business. This has given me a great deal of responsibilities from the get-go and I am one of the lucky few who can definitely say my work life is never boring, always exciting and continues to inspire me.
What does a typical day look like for you? If you are working for a food or beverage startup, you will know that there is no such thing as a 'typical day'. Be ready to work cross-functionally – it makes working that much more exciting and you will be able to experience and really develop what it is you really want to do in the field. It is good to be pushed outside your comfort zone, as that is when you are really learning.
I spend a lot of time out of the office on the ground and you never know where you might find me! One day I could be working on field sales and another day organising a photoshoot on a rooftop, on the Tube or even in the kitchen! On a rare occasion, I even head down to the factory to oversee the quality assurance of our cookies and to truly understand their journey – from raw ingredients to looking pretty irresistible on the retail shelves!
"It is good to be pushed outside your comfort zone, as that is when you are really learning"
Tell us about how you went about applying for your job. I decided to be proactive and during my time at university enrolled myself in a course run by Bread & Jam, which gave me access to a network of F&B founders. Their Facebook platform helped me land my first internship, with over 9,000 members, many of which are food and beverage founders. I was lucky enough to get responses fairly quickly when I posted about looking for an internship.
This is where I came in contact with Meenesh [Mistry], co-founder of Wholey Moly. The interview was a two-stage process. I had an initial informal phone interview where we were both able to gauge if I could potentially be the right fit for the job. I was then called in for a more structured face-to-face interview and a week later, I was told I landed the job!
I highly recommend anyone looking to start their career in F&B to reach out, be proactive and get involved in communities such as these.
What's the best part about working for a food company? I have found my work environment to be very warm and supportive. Being a part of the UK food startup scene has given me access to events, platforms and so many tools to connect with others working in the industry, as well as meeting and hearing from foodie founders themselves. Oh, and of course don't forget all the free food at trade shows!
And what's the biggest misconception people have about working in food & drink? That when you see a food or beverage product in a supermarket or a prestigious department store you may assume a brand has 'made it' but actually that's when the hard work really begins, it never slows down.
What advice would you give to other young people looking to get into the food & drink industry? Do not be intimidated – if you have had little or no experience in F&B, it is definitely a very welcoming industry. If you've got that passion, it will take you far. Be proactive and look to platforms such as The Grocer and Young Foodies for job openings, industry insight and even work experience reviews such as this!
What's your ultimate career dream? To eventually become a foodie founder myself. Having Asian European parents, what I would really love to do in the future is to bring my western influence of flavours, knowledge and insight back home to the east. I would like to create something innovative that helps mitigate both the health and environmental concerns that would meet the demands of a developing market back in Indonesia.