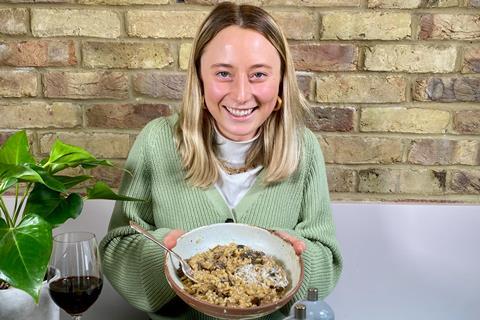 Name: Lucy Grubb
Age: 25
Job title: Marketing executive
Company & location: ByRuby, London
Education: University of Bristol, French and Spanish (BA)
Why did you decide to go for a career in food? I come from a big family where food is at the core of our individual and shared lives. The kitchen is very much the heart of our house, and all my fondest memories are from cooking or sharing meals with friends and family. This has meant that I've always been passionate about not just food itself, but everything that it stands for and lends itself to, so it seems only natural to me that this led me to seek out a career in food, as being passionate about my job has always been a non-negotiable for me.
Explain your job to us in a sentence (or two): I manage all our social media platforms and email marketing, planning and creating content for both our online presence and our presence in physical stores, as well as partnering with like-minded companies. I also help with Facebook and Google ads, SEO, and constant website management and improvements, as well as managing ad hoc projects as and when.
What does a typical day look like for you? Being part of a small company means it varies almost daily. Every week involves planning and creating posts for social media and marketing emails, and then on top of this I'll be seeking out and chatting to companies that we'd like to partner with, writing blog posts or recipes for our own or another blog, creating new content for future use (I've been teaching myself Photoshop!), working on improvements for our website and user experience, and most recently I've been managing a project for some new packaging designs.
"Being passionate about my job has always been a non-negotiable for me"
Tell us about how you went about applying for your job. I found the job advertised on LinkedIn, and I emailed Milly, the co-founder, directly, attaching my CV and cover letter. My cover letter was very specific to the job they were advertising, and I think it really helped that I was genuinely excited about the opportunity, since it was exactly what I had been looking for. They were in fact looking for people with more experience than I had, but luckily my passion came through in my cover letter and Milly offered me an interview.
We happened to live very close, so we went on a walking interview through Battersea Park, chatted for an hour, and got on instantly. I really enjoyed this unconventional first interview, as it meant that rather than thinking about where I should awkwardly place my hands across the table I could relax and be myself. After this I was given a week project to come up with a month's marketing campaign for one of ByRuby's meal bundles, which I found really tough, having never done anything similar before. However, instead of trying to pretend I knew all the jargon and specific skills, I played to my strengths and put forward a creative and imaginative pitch. After this, I had one more round of interviews meeting the other team members – co-founder Ruby and head of sales Alice – before I was offered the job.
What's the best part about working for a food company? I love working with and discovering so many other amazing food companies and people working in food, sharing our ideas and finding ways to help each other out. I also love reading reviews and receiving lovely messages from people who have really enjoyed our food and talk about how it has helped them or a loved one – the best ones are when people become converted after not believing that frozen ready meals could taste as home-made, high quality and delicious as ours do!
And what's the biggest misconception people have about working in food & drink? I think probably the amount of time that it takes to bring an idea to life. There is so much that goes into recipe development, taste testing and perfecting, making sure you are in line with all the health & safety regulations and government regulations etc, and then on top of that you've got the packaging creative and design and all sorts of other small things you don't even think of until they crop up – it's never as simple as you first think (or hope)!
What advice would you give to other young people looking to get into the food & drink industry? Look for jobs and companies that you really believe in and believe you can make a difference in. If you don't believe in what you are selling this will show in your interview process, and vice versa, and it would also mean that, were you to get the job, you would be unlikely to enjoy it for very long (if at all) or do it to the best of your ability.
What's your ultimate career dream? In all honesty, doing a job that I love, for a company I believe in and with people that I get on with are the most important things for me, and all I could ask for.