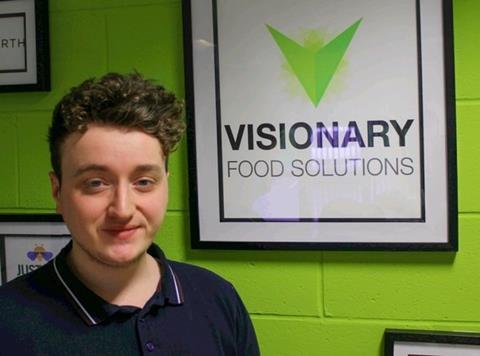 Name: Matt Norton
Age: 22
Job title: Business development executive
Company & location: Visionary Food Solutions, Caerphilly, South Wales
Education: Cardiff Metropolitan University, sport management
Why did you decide to go for a career in food? Food has always been a part of my life, if it wasn't for it, I probably wouldn't be here… jokes aside, ever since I was a kid, I wanted to be a part of a fast-moving, exciting industry. I did a lot of research coming out of university and identified the food industry as one on my key targets for a career. After many nights scrolling through job websites I eventually found a listing for my current position here at Visionary Food Solutions.
Explain your job to us in a sentence (or two): To identify new food & drink brands with industry challenges that we can help with. Once they're on board, along with our head of foodservice, I help them to identify listing opportunities and increase sales in the foodservice sector.
What does a typical day look like for you? Every day here at Visionary is varied as we must be reactive to what's going on around us. On a typical day I'll contact wholesalers, identify new business, analyse category data and research market trends. All the while drinking way too much coffee.
"I felt so comfortable whilst being interviewed by the team. This helped me to realise then and there that this would be a great fit for me"
Tell us about how you went about applying for your job. As mentioned above I scrolled through many job sites, eventually coming across the listing for Visionary Food Solutions and it sounded like so much fun. I had an initial sit-down with our MD Gareth Hobbs and, only having a brief understanding of the food industry, it was inspiring to hear his thoughts and how Visionary wanted to change the way we collaborate, and support startups and SMEs.
I was then invited back to the second stage of interviewing where the three remaining candidates were given a presentation brief and had to pitch our ideas to the wider team. The experience was so much fun they haven't been able to get rid of me since!
The one question I do remember being asked was 'What has surprised you about this interview process so far?'. My answer was how comfortable I felt whilst being interviewed by the team. This helped me to realise then and there that this would be a great fit for me.
What's the best part about working for a food company? The people. Working closely with startups you get to hear so many amazing stories about how a lot of these people have given up their well-paying nine-to-five jobs to jump into the unknown world of entrepreneurship and are building something from the ground up. Working with passionate people and seeing the genuine happiness when we deliver results makes the job so much more rewarding.
And what's the biggest misconception people have about working in food & drink? That it's dull and boring. You have so many exciting challenger brands out there looking to disrupt the market with their creative ideas and innovative products. It's such a fast-paced and exciting environment to be involved in – it's far from dull and boring.
What advice would you give to other young people looking to get into the food & drink industry? Be passionate and take the opportunity to learn as much as you can from others who are already in the industry. My catchphrase in the office has become 'every day's a school day' as I'm continuously learning new things from the people around me.
What's your ultimate career dream? Honestly, I'm not sure. I think eventually I'd like to go off and start my own journey as an entrepreneur after having had such a good time helping others out. For right now though I'm happy to continue to work in a fun environment with some amazing people and learn as much as possible.