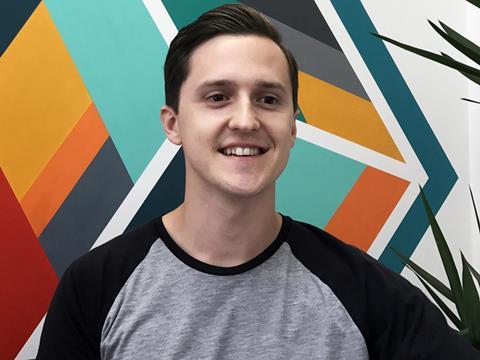 Name: Max Head-Lee
Age: 25
Job title: Managing Director
Company: SourcedBox, Brighton
Education: Advertising with Marketing Communications, Bournemouth
You made the decision to start SourcedBox during your final year at university. What made you take the plunge?
I was working part-time at a digital agency whilst juggling the perils of final year and dissertations when my friends Marcus and Niomi (YouTube and Instagram sensations Marcus Butler and Niomi Smart) approached me. The opportunity to take the plunge into building a business with friends I'd known for almost a decade was too good to pass up, particularly with their global YouTube audience of millions.
Explain your job to us in a sentence (or two):
Sourcing and sending out the latest and greatest healthy snacks, with all the less glamourous bits in-between. Like sampling the snacks. Trying all that chocolate gets tough…
What does a typical day look like for you?
As with a lot of other startups, there's a huge amount of variety every day, particularly with such a small team at SourcedBox. Sometimes I'm making sure stock is where it's meant to be and boxes are packed correctly, whilst other days I'll be looking at anything from marketing campaigns to customer feedback.
As well as being an employee, you're also a shareholder in the company. How does that change the way you approach your work?
Being a shareholder overtakes the employee side of things, as you're no longer just looking after yourself. As an employee, you want to work to the best of your ability, but as a shareholder there's extra motivation and personal responsibility to make the right decisions.
The founders of SourcedBox are two of the biggest names on YouTube. How important is social media to SourcedBox and your job in particular?
Social media should be mentioned in the same breath as word of mouth or having a website. It's an intrinsic part of any business, particularly within the food & drink industry and amongst young, health-conscious consumers. For us, the endorsements of Marcus, Niomi (pictured above) and other hugely influential YouTubers has been instrumental in getting SourcedBox in front of people. Their honest and relatable journeys into a heathier lifestyle has helped us in our aim to make healthy snacking more accessible and exciting.
What's the best part about working for a food company?
Speaking to so many people with a passion for healthy eating, and trying their incredible new products every month. SourcedBox works with everyone from big brands to small startups, and the level of enthusiasm and belief in shaking up the food and drink industry is consistently amazing.
What's the biggest misconception people have about working for a start-up?
You don't always have to be whizzing around at 100mph every day. Yes, things can get hectic, but with proper planning and organisation it doesn't have to be as frantic as some stories make out. That said, it's not all table tennis, slides and beers either (unfortunately).
What advice would you give to other young people looking to get into the food & drink industry?
Find something you're passionate about and get in touch, don't just wait for vacancies.
Without a doubt, now is the best time. Young people in the UK have grown up with a better understanding of nutrition and more access to food and drink than ever before. Big brands are making movements to adapt to the changing demands of their customers, whilst startups are popping up all the time to disrupt the industry with innovative ideas. Find something you're passionate about and get in touch, don't just wait for vacancies.
What's your ultimate career dream?
Walking into a shop in the middle of nowhere, on the other side of the world, and seeing something I've helped get on the shelf would be a pretty satisfying moment. That or leading England to World Cup glory at Wembley.