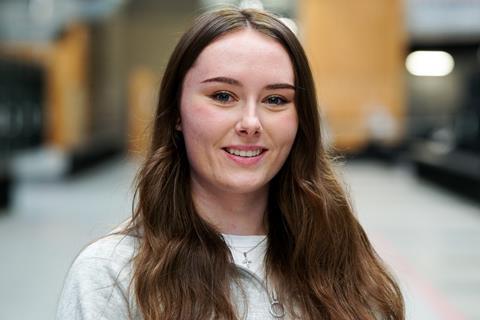 Name: Millie Graham
Age: 22
Job title: Video editor
Company & location: Dead Pixel Films, Manchester
Education: First Class Hons, Filmmaking, Leeds Beckett University
Why did you decide to go for a career in food? Working with food was never the initial plan, but it's something I've been drawn towards through my experiences so far.
Whilst completing a degree in filmmaking, my intention was to pursue a career in the TV and film industry – I was never 100% sure which role would suit me so I chucked myself into it and gained experience across a few different areas. I quickly developed a love for the post-production process and wanted to hone my craft as an editor. During the final year of my course, I completed a work placement with Dead Pixel Films and was introduced to a side of the industry that was completely new to me – up to that point, I'd always looked towards the TV and drama side of production, but after working on a number of commercial foodie projects, I quickly became hooked on the advertising and marketing video content creation that Dead Pixel offers, especially the work surrounding food. The pace, the creativity, the technical side, it's all very exciting and has allowed me to look at food in a completely different way, so it made sense to come back after university when they got in touch.
Explain your job to us in a sentence (or two): I'm a video editor, so I work with our creative director and director of photography to bring a project to life. Once the footage has been shot, it's my role to carry the story through and edit the footage together to produce the final product. This also includes the grading and sound design, ensuring the food looks and sounds the best it can.
What does a typical day look like for you? It can differ depending on where we're up to with a project. At the moment, I'm right in the middle of a large production, supporting with the editing of multiple videos for a new plant-based food brand – we're putting together a host of different recipe videos for their website and social, which is really exciting. So my whole day is taken up by sifting through the footage, highlighting the best shots, then piecing those together in the timeline and sense-checking with the script. On another day, I'm likely to be mixing that in with the odd pre-production meeting to discuss a new creative concept and providing input into whether we can achieve an idea and the best way of going about it.
"I used to think that creating those mouth-watering 'food porn' shots only happened on large big-budget TV ads"
Tell us about how you went about applying for your job. It wasn't your typical route into a role. One of the directors contacted me and asked if I'd like to come in and help with a project and I haven't left since. It was nearing the end of lockdown when most companies weren't hiring, but Dead Pixel were going in the opposite direction. As a specialist in high-end social and commercial video content, and food being one of the business' three core sectors, they were extremely busy and expanding the team. They liked my work and I liked being there – the culture is great and the office dog (Freddie) made it an easy decision.
What's the best part about working for a food company? The constant learning is so refreshing. Not just about editing techniques but how food performs on set and how to get the best out of it. The project I'm currently working on has already taught me new culinary skills and introduced me to exotic plants that I've would have never tried before now. I also love editing a concept together that's been beautifully presented by the food stylists that we work with, not to mention getting to taste it after shoots! It's really exciting learning from the team around me, too – the guys in the agency have worked with big food names like Frankie & Benny's, Heck, Pip & Nut and many more, so I know I'm learning from the best of the best and that there are bound to be many more exciting foodie projects coming up.
And what's the biggest misconception people have about working in food & drink? I can only really answer with regards to creating foodie content and the biggest misconception is that it's all fake. There definitely are times that certain tricks and techniques are used to get that perfect shot, but it's nowhere near as often as people think. If you have a skilled team and the right crew roles (DoP, director, stylist), then the food works hard too. A lot of the 'painting burgers' and 'fake fruit' isn't really a thing any more. I used to think that creating those mouth-watering 'food porn' shots only happened on large big-budget TV ads, but it's amazing what foodie content can be created in a day for a social campaign if you have the experience and kit.
What advice would you give to other young people looking to get into the food & drink industry? Gain as much experience as you can. There are so many roles that you probably don't even know exist, plus the mix of industries from fmcg and on-trade to hospitality and manufacturing – and they all differ in terms of food, content and audience. The more experience you can get, and the quicker you do it, the more exposure you'll have to the industry and likely find a role you really enjoy.
What's your ultimate career dream? If I'm honest, it's quite difficult to say right now. I'd be lying if I said I had it all figured out, but I get very excited when I see video content go live that I've worked on, so I can't wait to experience that with one of my favourite brands.