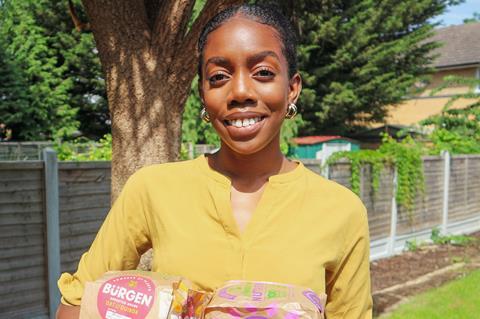 Name: Peda Alabi
Age: 24
Job title: Brand owner, Burgen
Company & location: Allied Bakeries, Maidenhead
Education: Aston University, Birmingham – BSc in Business and International Relations, gaining a first class honours
Why did you decide to go for a career in food? I have always been quite the foodie, from cooking to consumption! I knew I wanted to work in a company I could relate to and what better way than to get involved with the bread and butter of humanity (no pun intended)?
Explain your job to us in a sentence (or two): Things are done a little differently with Burgen… I'm the CEO as well as the assistant brand manager, salesperson and everything in between! I look after the brand in its entirety and shape the role myself without the usual reporting lines and processes which can sometimes slow you down, much like an entrepreneur would!
What does a typical day look like for you? My role is quite different as it carries an entrepreneurial essence, meaning each day comes with a new learning opportunity. There's no blueprint, so as well as learning new skills to be able to do a lot of the work myself, I work with a lot of small budding partners and freelancers to get the job done in a novel way. One day I could be working on our brand positioning or recipe development, and on some days I'm discussing commercials with the trade and building effective promotional plans. It is super exciting and allows me to learn and grow in a multifaceted way.
"I'm the CEO as well as the assistant brand manager, salesperson and everything in between"
Tell us how you went about applying for your job. I started my journey with Allied Bakeries via the graduate scheme – there were a few stages ranging from an online assessment to an assessment centre day, which include various exercises and an interview. During the grad scheme I had a year placement in sales and a year in shopper marketing. I knew at that point I wanted to try a hybrid role as an off-scheme role. I was put forward for this job and after a few discussions with the senior team, I was offered it. The whole process was really well organised, I felt comfortable and supported the whole way through.
What's the best part about working for a food company? Apart from the smell of fresh bread as you approach one of our bakeries, I have developed a newfound appreciation for how much effort goes into bringing a product to market so that consumers, like myself, can indulge at our convenience. I always feel connected to what I do as bread, like Burgen, is consumed by every household including my own, and knowing I have a part in that is really rewarding.
And what's the biggest misconception people have about working in food & drink? People often don't realise how much time and effort goes into seeing their favourite food or drink on the shelf in their local supermarket. There is a massive engine of people and process that goes into producing each individual item on shelf, no matter how big or small the brand is.
What advice would you give to other young people looking to get into the food & drink industry? Take the plunge! If you want a job with relatability, creativity and no two days that look the same – get involved in the fmcg industry. It's a great place for young people to learn about different aspects of business because no matter what role you do, you will have exposure to the length and breadth of the supply chain in some capacity.
What's your ultimate career dream? To one day run my own food and drink brand as an entrepreneur.