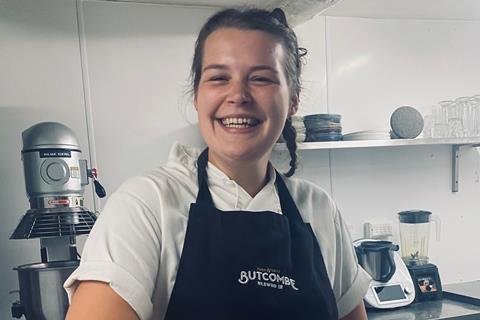 Name: Phoebe Montgomery
Age: 23
Job title: Chef de partie
Company & location: Butcombe Pubs & Inns, Horse & Groom, Charlton, Malmesbury, Wiltshire
Education: I enrolled at Cirencester College to study Law and English Literature at A Level, but soon realised it wasn't for me. I went on to get my Food Hygiene Level 2.
Why did you decide to go for a career in food? I have always enjoyed cooking and at a point in my life when I really didn't know what I wanted to do, instead of college or university, I got a job cooking in a local café. Here I learned that I can handle a fast-paced environment and I already had my Food Hygiene Level 2 so it all fell into place pretty quickly.
Explain your job to us in a sentence (or two): Preparing food for service, keeping a clean and tidy kitchen and making sure everything is labelled, rotating stock and keeping orders up to date.
What does a typical day look like for you? I come in and set up the larder and pastry section ready for service. Prepare food for the next day, always thinking ahead of time to make sure we order what we need from suppliers. I'll do lunch service with one other chef and once complete clean the kitchen and take a break. Then I set up for the dinner service and finish off any jobs before we get busy. Throughout the day I have to think about due diligence, so recording food cooking/cooling and fridge temperatures, food wastage, labelling food correctly.
"People still believe that it is a male-dominated industry. I of course disagree with this"
Tell us about how you went about applying for your job. I have worked with my amazing head chef before, at another pub, so I reached out to him when applying for a new position. We arranged an interview and a trial shift immediately and shortly after that I got a call asking when I could start and here I am!
What's the best part about working for a food company? It's the real sense of community and teamwork. Not just in house but from delivery drivers and butchers to the executive chefs/ CEOs of the company. They are all incredibly supportive.
And what's the biggest misconception people have about working in food & drink? I think people still believe that it is a male-dominated industry. I of course disagree with this. Butcombe offers me so many great opportunites.
What advice would you give to other young people looking to get into the food & drink industry? Go for it! It is an exciting and challenging environment to put yourself in which is constantly changing with the seasons and popular food trends. And there is always more to learn.
What's your ultimate career dream? I want to get to a point in my career where I can travel the world doing what I am most passionate about.