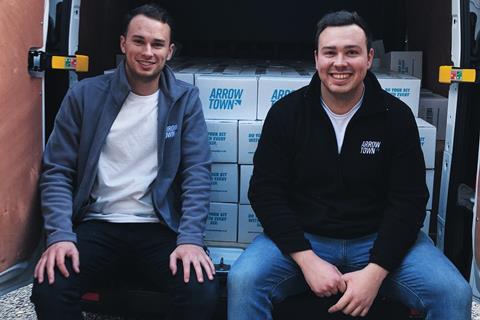 Names: Rob (right) and James Smith
Ages: 24 and 22
Job titles: Co-founders
Company & location: Arrowtown Drinks, East Sussex
Education:
Rob: University of Leeds – Environment and Business
James: University of Exeter – Economics
Why did you decide to go for a career in food? It's safe to say neither of us had planned to enter the food and beverage industry. However, we had always discussed business ideas and the plan to start something together. Then when backpacking New Zealand, Rob was in a beautiful little spot called Arrowtown, where he first tried alcoholic sparkling water. Having grown tired of bloating beers and sugary spirit mixers at uni, it was here he thought this new type of drink would provide a great alternative for UK consumers that wanted something different and healthier. Having studied sustainability at uni, we loved the idea of being able to achieve a bit of good through everyday consumer habits and our partnerships with Tusk and Sea Shepherd enable us to do so.
When Rob returned from travelling, we immediately set about googling how to start a drinks company. Soon enough we found ourselves committed to the idea and Rob pulled out of his graduate scheme in London as a surveyor to start Arrowtown (much to the dismay of our parents). Meanwhile, James was in his final year of university so it seemed like perfect timing for us to go for it together and here we are.
Explain your job to us in a sentence (or two): Our simple mission is to bring people low-sugar drinks that make a difference. Too many people are forced to choose between drinks that are full of sugar or healthier drinks that are lacking in flavour. There shouldn't be a need to compromise.
We also wanted to give people the ability to make a difference to key environmental causes by doing something as simple as changing your drink.
"Having studied sustainability at uni, we loved the idea of being able to achieve a bit of good through everyday consumer habits"
What does a typical day look like for you? Having only recently launched and it being just the two of us, every day is different but equally hectic. We both get stuck into all the challenges that a startup inevitably entails. Alongside this, we're both often out meeting customers and fulfilling deliveries ourselves so there's always something new to keep us challenged.
What's the best part about working for a food company? It may sound cliché, but people are really at the core of why we enjoy working in this industry. By their very nature, drinks are a very sociable product and should be used to enhance occasions with friends and family. The idea of being able to bring a bit of extra joy to people is really rewarding.
We also love getting out and about meeting people. It is a fun and engaging industry, full of exciting and innovative individuals. We've been lucky to meet some great people already and look forward to meeting many more.
It is, of course, also rather nice to get stuck into our own drinks at the end of a long day. That feeling will never get old.
And what's the biggest misconception people have about working in food & drink? We only launched five weeks ago so it is tough to answer this. However, people seem to assume we have an endless supply of free samples…
What advice would you give to other young people looking to get into the food & drink industry? To just go for it. Neither of us had worked within the sector before, nor had we started a business so there's no reason to hold back. The industry is full of brands of all different sizes that are creating new products so there's always something to get excited by and possibilities to explore. Find a brand you believe in and that aligns with your values, then give it your all. A bit of youthful exuberance always helps too!
What's your ultimate career dream? First and foremost, to make Arrowtown a success and have a good time doing so. In the future, it would be great to expand into different sectors of fmcg but we're not thinking that far ahead!