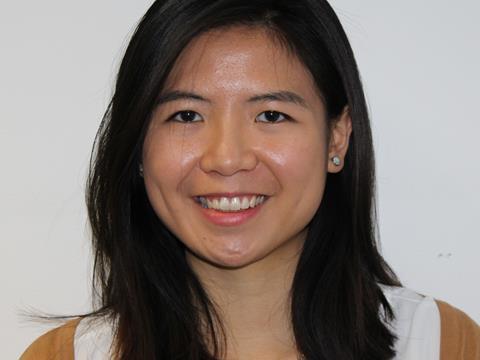 Name: Samantha Lai
Age: 25
Job title: Commercial officer
Company: FareShare UK, London
Education: Psychology (BSc) at University of Bristol
Why did you decide to work for FareShare?
I hate wasting food! Growing up in Hong Kong, it's something that's been ingrained in me since I was a child – we eat from nose to tail, take doggie bags from restaurants, finish every grain of rice in your bowl… so it really baffled me how there is so much food going to waste. I was limited to how much I could do to help in my old job, so I just needed to do something about it.
Explain your job to us in a sentence (or two):
I source surplus food from the food service and frozen food industry and make sure that they go to amazing charities that support vulnerable people who wouldn't have a square meal otherwise!
What does a typical day look like for you?
There's not quite a typical day in a food surplus charity. Some days you'll be dealing with hundreds of pallets of ready meals, another day you could be desperate for them! I speak to my food partners regularly to keep on top of food donations and understand how else we can generate mutual value for each other and develop our relationships further. My office sits above our London warehouse, so if they need any help downstairs because they are short on volunteers then I'll pop down to help. It's nice that I can do that as it brings me even closer to the food and helps me source the food that our charity members want and need.
Tell us about how you went about applying for your job. What was the process like?
I saw the role advertised on LinkedIn and applied immediately. There were two stages and in one of them I had to do a presentation. Having been through the interview, I would say it's good to know and care about wider environmental and social issues in our world - not just about food waste.
What's the best part about working for FareShare?
Knowing and seeing that your job directly helps people in a tangible way is a great feeling.
It's only been a few months since I've joined FareShare, but I love how buzzed I feel after work! Knowing and seeing that your job directly helps people in a tangible way is a great feeling. Also getting to know other people who are engaged in the cause – that be my colleagues, the volunteers in our 21 regional centres, food partners and so on. Their dedication to do the right thing is inspiring.
What's the biggest misconception people have about food waste and how are you hoping to change that?
When you work in the food and drink industry, you tend to deal with masses of volumes of food on a daily basis, so 1% of wastage might be insignificant in terms of the business. That 1% in our world, however, equates to many meals that can generate so much social value. I'm hoping to change that by showing our food partners the outcomes of their donation using tangible measures such as meals donated and getting them to come to our sites to see the FareShare operation in person. Another common misconception is that we can only take finished goods. We can also take unfinished products in various stages - raw, semi-finished, QA samples, R&D samples, market insights samples and so on - these are perfectly good to eat and for us to redistribute but can sometimes be overlooked.
What's the most surprising thing you learned about food waste since starting work at FareShare?
Before I started working at FareShare, I only thought about the food waste at a store level, as that was what I saw as a customer. There is so much more surplus food further up the supply chain that occurs for a number of reasons and sometimes it is simply disposed of because it's a cheaper and easier option. This is why it's important that my team and I strive to make food redistribution to us as cost effective and painless as possible.
What advice would you give to other young people looking to get into the food and drink industry?
It helps if reading trade magazines is one of your hobbies
Try to not pay too much attention to the title of the position, it might sometimes put you off from applying and you miss out on a great job. If the job description and person specification matches you then just go for it! It also helps if reading trade magazines is one of your hobbies.
What's your ultimate career dream?
This is embarrassing and I'm far from it, but I would have loved to be a roller coaster designer. In reality I'd just love to be able to get the right food to as many people as I can – the supply is definitely there!