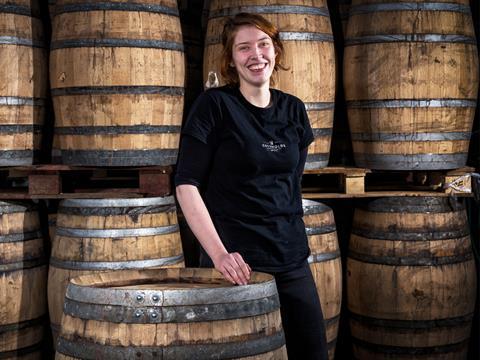 Name: Sarah MacLellan
Age: 25
Job title: Distiller/ Research & Development
Company: The Cotswolds Distillery, Stourton
Education: BSc Hons in Biomedical science at Glasgow Caledonian University, MSc in Industrial Biotechnology at University of Strathclyde
How did you first become interested in working for a distillery?
I come from the whisky island of Islay, so whisky has always been a fundamental part of my cultural upbringing. My dad owns a pub too; it's been in our family for over 100 years. As a child, I would spend a lot of my time listening to stories from the distillery workers, when they'd come in for a dram.
The whisky scene can be quite male dominated. How does that affect you – and what are you doing to challenge it?
It's fair to say that as a woman you have to try a lot harder than your male counterparts in order to be taken seriously.
This is certainly true back home on Islay. A few women do work in the industry back home but not on production - heaven forbid! It is still very much a man's world on Islay when it comes to mashing, distilling and casking. I applied to a few distilleries back home in hope of getting a hands-on position, but unfortunately I was pretty much stonewalled. Fortunately, it's the only time I've experienced it in the industry. I was lucky enough, however, to join the mash and still man for the night shift at a distillery down the road from my house. A very nice lady at the distillery organised that for me for a few weeks, and I'll always be very grateful to her. I challenge it by constantly upping my game. I think it's fair to say that as a woman you have to try a lot harder than your male counterparts in order to be taken seriously.
Tell us about how you went about applying for your current job. What was the process like?
I was very lucky to meet our head distiller in my dad's pub back home. I set about talking at him about whisky for the best part of three hours. We kept in touch and a few months later he informed me they had a job going for an assistant distiller. I jumped on a plane the same week and went to the Cotswolds for my interview. It was quite informal: the boys were unloading calvados casks from the back of a lorry that day, so most of what was said was about casks with a few interview questions thrown in.
What does a typical day look like for you now?
I've never been much of a morning person, so I prefer the late shift which runs from 12pm - 9pm. I'll arrive and get straight to work. I might need to do a casking or get botanicals ready for the next gin run, or dash to the lab and bottle some small-batch gin for our distillery shop. By about 1pm we start the hand over, where the morning distiller will hand the stills and mash over to the evening distiller. We discharge then fill the stills for the second run of the day, clean, prepare then start the second mash of the day and start the second gin run of the day. It's a lot of fun, never a dull day.
What's the best part about working for a distillery?
Seeing the fruits of your labour. After all the blood, sweat and tears, it's a great feeling to sample the spirit you've made. From grain to cask, we nurture our whisky and it's a humbling thought to imagine someone in 10 years' time enjoying a dram you took time to carefully create.
What's the biggest misconception people have about working in the drinks industry?
Probably that you get to sit around all day drinking whisky. Yes, we do some quality control from time to time but it is literally a nose and a sip. Too much work to be done to sit around and drink!
What advice would you give to other young people looking to get into the food & drink industry?
Having the right qualifications can help but it is by no means an essential requirement.
Be proactive in talking to people already in the industry. One thing I've learned about people in this line of work is that they are almost all incredibly helpful and accommodating. Introduce yourself to people via email, show people how passionate you are. A lot of them will recognise your passion (as they have it too) and will want to help. Having the right qualifications can help but it is by no means an essential requirement.
What's your ultimate career dream?
Once I've mastered my craft, I hope to return to my home island of Islay. My ultimate dream would be to build and own my own distillery in the village I grew up in and hopefully breathe some new life back into our community. My dad has hundreds of stories about how the village used to be back before the days of automation. Lots of hard graft followed by endless parties, music, dancing and lots of whisky… obviously. My job in the Cotswolds has really made me appreciate the real hard work that goes into whisky production and its rewards. I would want to give that opportunity to young people back home - regardless of gender, of course.