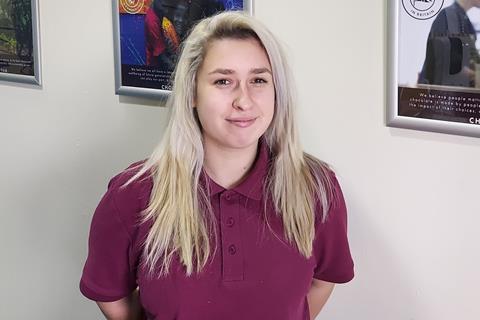 Name: Shannon Farmery
Age: 24
Job title: Trainee operations supervisor
Company & location: Choc Affair, York, North Yorkshire
Education Provider: North Lancs Training Group
Why did you decide to go for a career in food? I have always worked in hospitality and have a huge passion for delivering excellent customer service as well as for food and drink. Initially, I worked in a village pub, as I was unsure of what I wanted to do longer term. However, I knew I wanted my career to be within the food industry.
Explain your job to us in a sentence (or two): I'm a management trainee, so I am learning to cover all aspects of the chocolate factory, from production, to dispatch to invoicing, and even the sales office.
What does a typical day look like for you? Very productive and challenging. Each day is different as I'm usually the reactive person in the factory, doing whatever needs doing.
Tell us about how you went about applying for your job. This was a stroke of luck for me. I met the Choc Affair owners, Linda and Julian, whilst at work. They were impressed with my work ethic, saw an opportunity for me and asked me if I would consider meeting up with their HR manager. I attended a semi-formal interview, where I was asked a lot of detailed questions, including what I wanted to do in the future. The interviewer could see that I was keen to explore different avenues, so coming on as a management trainee meant I had the opportunity to explore all the different areas of the chocolate-making business whilst at the same time allowing me to undertake a qualification.
What's the best part about working for a food company? I feel very lucky to work with a team of lovely people that work here at Choc Affair, everyone is really friendly and there is always something to do to keep you busy. What I love the most about the business is that all the chocolates are handmade and infused with delicious flavours right here in York. The business also has really high values on where the chocolate comes from and they will only purchase chocolate which is sustainably and ethically sourced as well as palm oil-free. Their values have really helped shaped my commitment to doing good in business.
"Choc Affair's values have really helped shaped my commitment to doing good in business"
And what's the biggest misconception people have about working in food & drink? Many people perceive that working in the manufacturing industry is boring and repetitive, but that is not the case. There are plenty of different career moves you can choose from and as it tends to be fast-paced there's no time to be bored.
What advice would you give to other young people looking to get into the food & drink industry? Give it a go! Especially if you are not sure what you want to do – yes, it's hard work, but it is fun and you'll never be bored!
What's your ultimate career dream? Being able to manage a team of employees, helping them with their careers and guiding them to success!