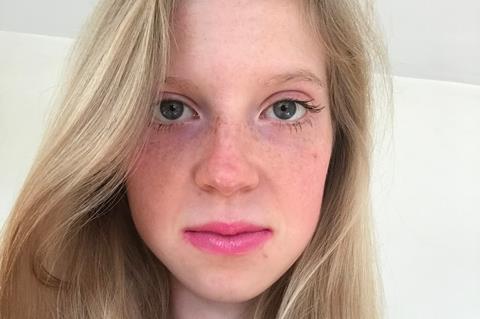 Name: Sophie Knox Richmond
Age: 22
Job title: Food writer & recipe developer
Company & location: Doughlicious, London
Education: BA English at UCL, MSc eating disorders and clinical nutrition at UCL (currently studying)
Why did you decide to go for a career in food? My mother has worked in the food industry for over 25 years. When I was a child, she was the food editor of various leading magazines and wrote for a number of national newspapers. Elizabeth David captured the unique experience of 'three Christmases' – it was normal to have a house full of products to test long before they hit the supermarket shelves, or different variations of the same dish until the recipe was perfect.
She has also written over 40 cookery books (on everything from one-pot cooking, vegan, meat and barbecues) so we often had photography shoots in the house (or garden in the summer). She now works in food development and continues to inspire me every single day. We started cooking together before I could properly walk but it wasn't until my mid-teens, when I cooked to relax from the stress of exams, that I realised I wanted to follow in her footsteps and have a career in food.
Explain your job to us in a sentence (or two): I handle the PR side of Doughlicious and run the 'What's Up' blog which helps us connect more with our customers. This includes developing recipes, writing reviews and features. I also work closely with my boss to come up with fabulous new flavours and product ideas.
What does a typical day look like for you? Every day is different which is what I love about the role. I always start by reading the food and drink news and social media posts, going through the latest trends, product launches and popular recipes. I work closely with the Doughlicious founder, Kathryn Bricken, who is a constant source of wisdom. We discuss everything from NPD to recipe ideas and how to expand our consumer outreach.
Most days involve testing and researching recipes for the website (all our recipes are triple tested to make sure they work perfectly). I will also reach out and respond to like-minded companies to see how we could work together.
We are promoting our offers on Kindred – an incredible app which offers influencers the chance to enjoy fantastic discounts on top brands, earn commission and donate to charity at the same time. I also respond to questions from customers and media requests from journalists and publications. I am currently working on a lot of vegan ideas and spreading the word about the brand new Dough Chi – an incredible vegan cookie dough treat with a hidden ice cream centre.
"I love getting in touch with other like-minded companies and seeing how we can work towards a more sustainable food system"
Tell us about how you went about applying for your job. I got my current job by chance! I was working for a chocolate company and emailed Doughlicious regarding a new feature. Kathryn emailed back to say that she loved my work and wanted to discuss the possibility of joining the Doughlicious team. The proposed role offered a chance to grow my skills, learn from an inspiring boss and become more involved with recipe development – it was an incredible opportunity.
What's the best part about working for a food company? The changing nature of the industry and the continuous opportunities to learn and grow. I love getting in touch with other like-minded companies with a conscience and seeing how we can work towards a more sustainable food system (minimising food waste is really important to Doughlicious). I find the likes of Abel & Cole so inspiring.
And what's the biggest misconception people have about working in food & drink? That it is simple. I think people believe that it is just about cooking tasty food – but it involves many different aspects. Allergens, food safety, changing trends, different dietary choices… there is so much to consider.
I am really lucky that I have grown up with a mother who works in the industry and now work for a hugely knowledgeable boss with over 20 years' experience. At Doughlicious we don't just make cookie dough; we want to create flavours that make magical memories when you share them with your friends and family – every time I bake a batch of our cookies it brings me right back to my childhood, when I would make cookies with my mother and eagerly wait for them to come out of the oven!
Food is so much more than fuel; it can nourish the soul and the body, bring people together and spread a little happiness.
What advice would you give to other young people looking to get into the food & drink industry? Always be open to learning and don't be afraid to look back in order to look forward. New trends, flavours and concepts pop up time and time again but we can always learn from the ever-popular classics. Also, don't be afraid to ask for help – there are so many people who can offer a wealth of wisdom.
What's your ultimate career dream? I would love to write my own cookery book full of nourishing, sustainable dishes – the food of my childhood and the recipes I make time and time again and would love to share with the world. I also want to be more involved with charitable organisations within the industry, there are so many charities that carry out inspiring, and humbling, work.