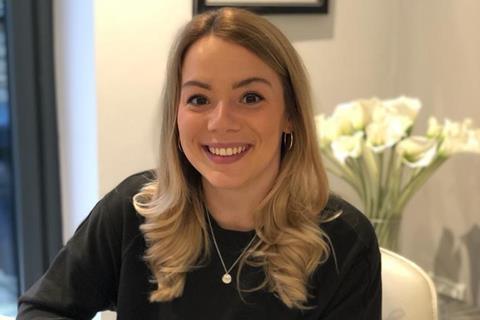 Name: Stephanie Squires
Age: 25
Job title: Marketing executive
Company & location: Ball, Luton
Education: Bournemouth Uni, Media & Communications
Why did you decide to go for a career in the industry? Before joining Ball earlier this year, I worked in the hospitality industry for a big hotel company delivering both their external and internal communications. After two years, I left behind the glamorous world of hotels to work in the packaging industry.
I was interested in how rapidly the industry is growing, and by the female leadership that is clear to see within Ball, including Carey Causey, president of Ball EMEA and directly within my own team. From my line manager all the way up to Carey there is a strong chain of female leaders which is incredibly inspiring to see.
Aluminium cans are an important part of our circular economy, and I was intrigued to learn more about how they support food and drink brands to be more sustainable overall. I am definitely learning more about it every week and it is an exciting time to work in the industry.
Explain your job to us in a sentence (or two): My role is to support the team in communicating our sustainability messaging and the products Ball has available to our customers, whether that's through digital marketing or an internal newsletter – it changes week by week.
What does a typical day look like for you? Typically it includes a lot of engagement with internal stakeholders at Ball to ensure we are joined up with our transformation team and colleagues across Europe.
At the minute, I am working closely with our marketing manager to drive forwards a digital marketing campaign that looks at how the can has been there to mark key moments in consumers' lives, as well as how on-pack sustainability messaging can help raise awareness of aluminium recycling.
After rebranding just over eight months ago, we are also making sure our key assets are up to date and we are always looking at new ways to raise the profile of aluminium cans in the market. Ultimately it's a hugely diverse role, and every day is different!
Tell us how you went about applying for your job. Funnily enough, the recruiter who approached me about this role is actually my mum!
My interview was with the senior director, commercial strategy, insights & marketing and it was such a natural conversation we had to wrap up the call to stop us sitting and chatting all day. After my first interview, I knew I would fit in seamlessly with the team.
As my passion lies in writing and content creation, I was excited to bring something different to the team to help them elevate their content. Right from the first interview, I felt like they valued my skills and they set out a two-year progression plan towards a management role, so it was a no-brainer to move to a company that dedicates its resources to training and developing internal employees.
What's the best part about working for Ball? The best thing about working for Ball is learning just how special a can really is.
Like a lot of us, I have always enjoyed a cheeky can of gin & tonic but I would never really think about 'where did this can come from?' or 'where does it go once I'm done with it?' But now, due to my role at Ball, I know cans are infinitely recyclable and melted at 700 degrees celsius, before going back on the shelf! I went from not even noticing what packaging I was picking up to now checking every can I buy to see if it's made by Ball.
The progression opportunities are also fantastic. A former executive in my team has now moved into a brand new team so it's exciting to know that once I am in the business longer I can fine-tune my skills to progress up the ladder.
"I want to be an example of strong female leadership, which is something Ball is incredibly supportive of"
And what's the biggest misconception people have about working in the industry? I don't think people realise how much innovation is coming from the packaging side of the industry, and not just the product that goes inside it.
So many new and existing brands are starting to convert their current packaging type to aluminium cans and it is one of the most exciting and rapidly expanding sections of the market. Brands want to be friendlier to the planet and cans are the perfect solution. I am excited to visit a plant soon, so I can see for myself how cans are made from ingot before being filled and shipped to retailers.
What advice would you give to other young people looking to get into the packaging industry? I would definitely encourage people to give it a chance. While it may be a less well-known area of the food and drink industry, packaging is a truly fascinating sector to work in.
The most exciting innovation does not just come from the product inside, and packaging is a rapidly evolving section of the market. The way a product looks and feels is extremely important to consumers.
The industry presents a great opportunity to learn more about new technology and how packaging supports the circular economy, which is going to be increasingly important for our future and fighting the plastic crisis.
What's your ultimate career dream? Ultimately, I want to keep learning and push myself as far as possible. I have started at the bottom of the ladder and I am proud of how far I've come, but I know it will take lots more hard work to get to the top.
I especially want to be an example of strong female leadership which is something Ball is incredibly supportive of and champions both internally and externally.
After starting this role remotely for a few months, in a new industry and sector, I thought I was in over my head – but I am learning so much about packaging every day and I can clearly see just how much I can achieve within the industry.