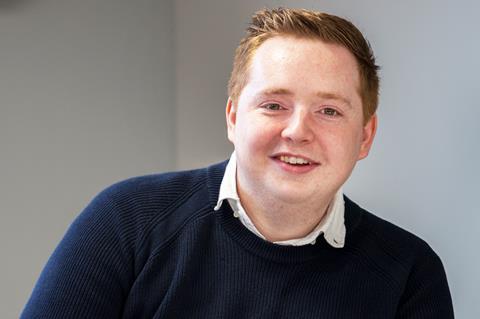 Name: Tom Bell
Age: 23
Job title: Innovation Chef
Company & location: Quorn Foods – Stokesley and Leeds
Education: University College Birmingham – BA Culinary Arts Management (2:1), VRQ Level 3 Professional Chef Diploma
Why did you decide to go for a career in food? Food has always been a big part of my life. My family love cooking, and with lots of family gatherings growing up there were always new dishes and flavours to try. This inspired my love of food and cooking as since around the age of 12, I knew I wanted to be involved in food in some way. Then I did work experience at around 14 in a restaurant and I haven't looked back since.
When I was younger, I thought that a career in food would take me to a restaurant but being at university really opened my eyes to the breadth of the food industry. There are so many incredible opportunities, it's where my interest in product development first sparked.
Explain your job to us in a sentence (or two). My job focusses on creating delicious and innovative food. We start with prototype products and recipes that can be scaled up to factory-ready products. Behind that, there is a lot of research, benchmarking and sampling of different products and recipes. We also do a lot of eating out and 'trends trips' to taste emerging trends, dishes, ingredients and techniques.
I'm also involved in creating recipes to be photographed or videoed, internal cook-ups to share new products with the wider Quorn team and working with third-party suppliers to ensure we create the best possible products.
"Being at university really opened my eyes to the breadth of the food industry"
What does a typical day look like for you? It's a bit of a cliché but every day could be different, which is why I love the job; it keeps you on your toes!
One day I could be writing or cooking recipes to showcase our products, the next I could be in the kitchen working on a new product prototype. The next day I could be tasting products from around the world to see where the market is heading and what products, technologies and ingredients would be good for different international markets.
Tell us about how you went about applying for your job. I first heard about the role from a contact mid-pandemic so it was a slightly different process to usual. The first stage was a telephone interview but because of the type of role it is, an in-person, cooking-based interview is also very important. Quorn did a great job of creating a safe space for this. I had to develop two new products or recipes that identified possible gaps in the meat-free market that were on trend. It was tricky as there's already so much good innovation out there but I loved it, it has already inspired lots of new ideas.
What's the best part about working for a food company? Knowing that products we create have the potential to one day be in millions of kitchens across the world is incredible. That inspires me every day.
I also love the variety that comes with it, and importantly being able to work with likeminded people who get just as excited about food as I do.
And what's the biggest misconception people have about working in food & drink? A lot of people I speak to about what I do don't realise the amount of planning, research and benchmarking that goes into getting a product shelf-ready. It's a proper team task, almost everyone in the company is involved in some way throughout the process, so when a product is launched and is successful it gives us all a sense of pride.
What advice would you give to other young people looking to get into the food & drink industry? Don't hesitate! It's an amazing and rewarding industry to be in, full of amazing people and I feel like there's almost something for everyone within the industry.
You have to be passionate about it to be the very best. Working in food and drink isn't just a job, it becomes part of your life. You can't just go to a supermarket or restaurant as usual as you're always checking out menus and the shelves looking to be inspired.
What's your ultimate career dream? It's always evolving as there's so much about the industry that excites me!
I would like to be able to give back to society at some point. Cooking is an important life skill, even for those who don't enjoy it. I'd like to either create an initiative or support a charity that helps to educate future generations on how to make healthier food choices by giving them a set of basic skills that they might otherwise miss out on.
That's why Quorn is such a good fit for me, the company's mission is to create products and recipes that are good for the health of the planet and people. I know I'm going to develop a lot of skills here that will help me achieve my goals.
I would also like to create a blog that encompasses the two things I love most – food and travel. Food connects us all and it would give me the chance to meet amazing people working in food across the world and try all the incredibly diverse options out there!