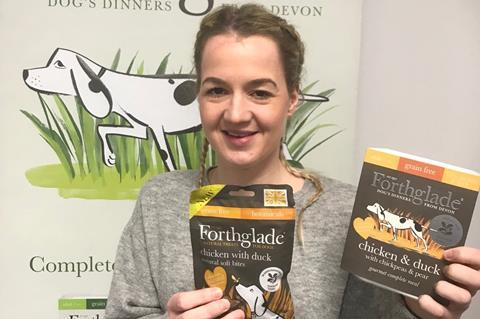 Name: Yasmin Langman
Age: 24
Job title: Packing supervisor
Company: Forthglade Foods, Okehampton
Why did you decide to go for a career in food? I was working in the care sector after leaving college and struggled to see a solid career path in the role. The position within Forthglade seemed a great way to develop skills within an interesting area – natural petfood.
Explain your job to us in a sentence (or two): I manage a team of between 13 to 20, ensuring they all work safely and are appropriately trained to the high standard required. Packing quality and quantity is also an area I manage with the team.
What does your typical day look like for you? At 5:45am I start work by completing a handover with my fellow supervisor, so I'm aware of where we are in our packing plan. I need to check on any urgent products required and confirm all my team members are in and OK. Social distancing and regular workstation cleans have been key during the Covid pandemic and assessed regularly. I then run regular checks on health and safety measures, the necessary quality of the goods and the recording of all our results to maintain all food safety and traceability requirements.
Tell us how you went about applying for your role? I worked in the packing team as an agency worker and worked hard, demonstrating I worked to high standards and was reliable. When the company recruited for permanent staff I was offered a full-time position. I was always keen to learn new things and always put myself forward for training to expand my experience. Which lead to a key operative role and then my current role as a supervisor covering for maternity leave.
"Social distancing and regular workstation cleans have been key during the Covid pandemic and assessed regularly"
What's the best part about working for a food company? There's no time to get bored! It's a fast moving production environment and it's challenging, but you get a great sense of pride in achieving your targets. The new purpose-built Forthglade factory in Okehampton is also a great environment to work in.
And what's the biggest misconception people have about working in food & drink? For me I think it is the misconception of working in a factory as it's thought of as being repetitive and boring. Of course like any job there are necessary elements of a routine, but the reality is there are great opportunities to progress, learn new skills and develop your career.
What advice would you give to other young people looking to get into the food & drink industry? Work hard and push yourself forward to learn new tasks and skills. Demonstrate your willingness to progress and jump at the opportunities given, to push yourself and gain wider experience.
What's your ultimate career dream? I will always want to improve myself and look for the next opportunity – look out Forthglade factory manager!