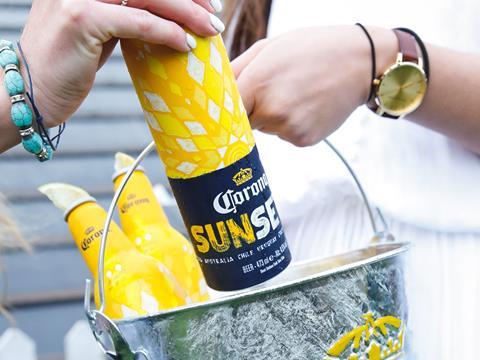 AB InBev is set to shake up the booze aisles with the launch of its booming Corona lager into aluminium bottles, The Grocer can reveal.

Until now, aluminium bottles of the beer have only been available at Corona events like this year's SunSets Festival, but the brand is now planning to launch the format into supermarkets and pubs.

AB InBev UK and Ireland marketing director Nick Robinson said the brewer was looking at "how we can extend the offering to the off and on-trade" in 2017 as part of its "continued expansion and premiumisation" of Corona, which has been flying off supermarket shelves as Brits continue to embrace premium world beers.

In the past year, sales were up £34.4m to £111.9m - a 44.5% jump in value on volumes up 43.9%, according to Nielsen [52 w/e 8 October 2016]. In July, The Grocer revealed Corona was the UK's fastest-growing alcohol brand despite a 12.5% drop in average prices to £2.87 a litre [Nielsen 52 w/e April 2016] due to heavy promotion of the Mexican beer in the mults.

Since then, Corona prices have levelled out at £2.92 a litre, compared with £2.60 for Heineken and £2.52 for San Miguel.

In July, Robinson attributed the brand's rapid growth to "big gains in distribution - particularly on 10 and 12-packs of 330ml bottles", as well as the"many millions" that had been splashed out on marketing for the brand.

With AB InBev having "invested heavily" in the production of an aluminium bottle, the move to extend its sale made "perfect sense", said Nick Liddell, director of consulting at branding agency The Clearing.

A key benefit of the format was that it allowed the introduction of branding across the whole bottle - an important attribute in the "image-led lager" category, he added.