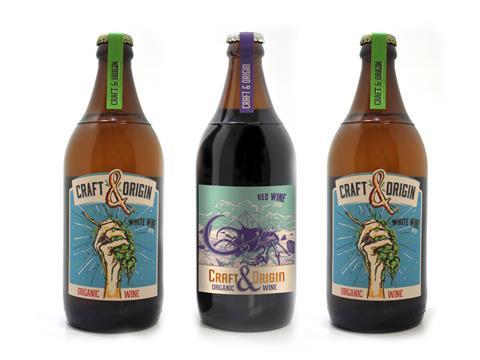 Aldi has launched a craft wine range to tap the growing craft market and attract millennial consumers.
The discounter hopes to replicate the success of the artisanal beer and gin categories by teaming up with South African winemakers Origin to offer a four-strong lineup.
Following 12 months of development, the NPD will be available from 13 November. It features two sparkling Moscato variants – No Monkey Business MosKato Rose and No Monkey Business White MosKato (rsp: £2.49/50cl) – and two organic bottles: Craft & Origin White and Craft & Origin Red (rsp: £2.99/50cl).
The wines feature 'contemporary' labels that read, 'Designed for pleasure, enjoyment and no-fuss drinking'. Aldi hopes the 50cl brown, beer bottle-style format and abvs of 5.5%-12.5% will appeal to the lifestyle of the 'Whole Foods generation' and grow wine sales by appealing to younger drinkers who usually opt for beer or spirits.
"This is an exciting move for Aldi. We have changed the rule book with these innovative wines, in a bid to tap into the craft movement and the audience it attracts," said Tony Baines, the discounter's joint managing director for corporate buying.