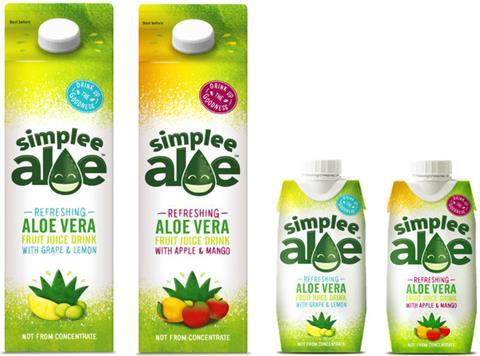 Aloe vera juice drink Simplee Aloe is growing its range with its first flavour extension - Apple & Mango.
The variant launches this month in Ocado and wholesalers including Simple Simon and Marigold Health Foods, in 1-litre (rsp: £3.49) and 330ml (rsp: £1.79) Tetra Pak formats. It joins the brand's original flavour, Grape & Lemon, listed by Sainsbury's, Asda and Waitrose.
"Simplee Aloe has had such an exciting journey so far and we now feel it's time to really bring the brand to life by adding more flavours into the mix," said co-founder Alex Lai.
"We know that consumers are increasingly looking to make healthier choices, particularly in the new year, and Simplee Aloe's new flavour will be perfect for people looking for a healthy boost on the move."