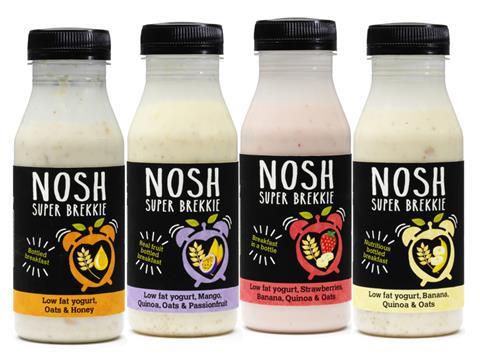 Ballygowan water founder Geoff Read has unveiled a drink he claims has the nutritional benefits of a solid breakfast.

Read developed Nosh after spotting potential for an on-the-go breakfast product offering convenience and nutrition. Sold in a 250ml bottle (rsp: £2.50), it contains quinoa, whole oats, fruit pieces, juice and Greek-style yoghurt, and has been dubbed by Read as the UK's first 'foothie' - a complete breakfast in a bottle. He claimed Nosh would fill consumers up more than rival breakfast drinks.

"Our research shows that a third of people don't eat breakfast at home, but if you drill down into that, you find that about 80% of young professionals don't," he said. "Porridge pots are reasonably healthy but not that convenient. The best medium for consuming a breakfast is in a drink format, and what we've created with Nosh is a drink you can eat."

Nosh comes in four flavours: strawberry & banana, mango & passion fruit, banana porridge, and oats & honey (which does not contain fruit or quinoa). The product rolls out to 160 Holland & Barrett stores next month, and Read is in negotiations with major mults and expects to secure further listings by the spring.

Read, who also founded wine company Grape Expectations, added the company was looking at developing gluten and dairy-free options.

Developed by Read in 1981, Ballygowan water is now owned by Britvic, which last year launched a major push for the brand in the UK.