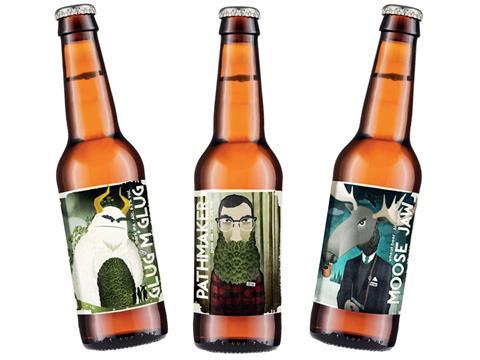 Black Sheep Brewery is set to make an ambitious move into the modern craft arena with the launch of three new beers in 330ml bottles.
The beers - which launch in September - are Pathmaker, a 5.6% abv pale ale; Moose Jaw, a 5.2% wheat beer; and 6.2% dark IPA Glug M'Glug. They will initially be available from the brewery's shop and website, with no retail listings confirmed yet.
Black Sheep's sales and marketing director Jo Theakston said the move reflected the changing preferences of beer drinkers. "We're bringing new stuff through because we can't stand still - we've got to be producing new beers for a new audience," he said. But he also acknowledged that traditional premium bottles ales (PBAs) faced a fight to retain their listings as supermarkets prepare to slash ranges - suggesting the "long tail" of smaller variants were likely to lose out.
"You could argue that by focusing the range, those that stay in will benefit," said Theakston. "But if you can give equal weight to both craft and PBAs, it creates a much more interesting consumer experience."
Pathmaker, which is also launching to the on-trade in keg, is a reference to Jo's 'black sheep' father Paul. Moose Jaw references Paul's father Frank, who was in the RAF in WWII and was stationed in Moose Jaw, Canada, while Glug M'Glug is named after a fictional monster in stories told by Rob and Jo's other grandfather.
"They're fairly crazy ideas, but fitted with what we wanted to do with the beers," said Theakston.