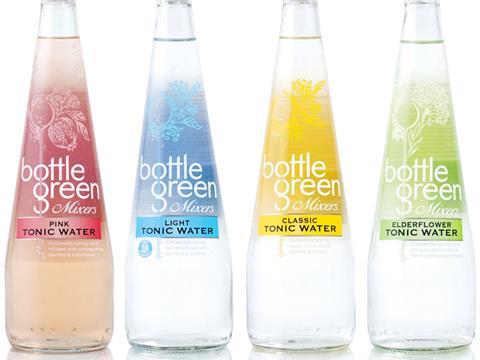 Bottlegreen is expanding its range of mixers with new flavours, formats and a packaging refresh as it seeks to bolster its position in the adult soft drinks category.

The brand is also tweaking the design of its whole range to reinforce its premium positioning and boost the appeal of its distinctive conical bottles.

From October, its Elderflower Tonic Water and Pink Tonic Water will be available in 500ml bottles (rsp: £1.69). They will be joined by Indian Tonic Water and Light Tonic Water, both new to the off-trade, while Waitrose will carry new flavour Bitter Grapefruit. A redesign of the 175ml and 500ml formats will align them more closely with the wider brand.

Bottlegreen's range of cordials and sparkling pressés, meanwhile, will get a number of subtle alterations including a new hand-drawn logo and illustrations, and the product information labels have been moved from the back to the side of the bottle. The cordials now feature a non-drop pourer and the words 'Made in the Cotswolds' embossed on the neck, and a tag-style graphic giving the name of the flavour. The pressés have 'Made in the Cotswolds' incorporated into the main graphic, and a new vertical 'Sparkling pressé' label on the neck intended to make the bottle appear taller. A new seasonal flavour, Elderflower & Elderberry, is also launching exclusively in Waitrose.

"What attracts consumers to the Bottlegreen brand is the quality of the ingredients and the end product, which is achieved using a unique filtration process, as well as the choice of flavours that are suited to adult palates," said Amanda Grabham, marketing director for soft drinks at brand owner SHS Drinks. "The new design brings all of these attributes to the fore."

"A big part of the appeal of Bottlegreen Mixers is that they are from the Bottlegreen stable, so we have taken this opportunity to align the design of the mixer range more closely with that of the cordials and sparkling pressés and extend the range available to take-home customers," she added. "The bottle shape, logo and consistent use of botanical images now clearly unite the whole Bottlegreen family."

Bottlegreen's total brand sales are up 4% year-on-year to £19.7m [Nielsen 52 w/e 15 August 2015].