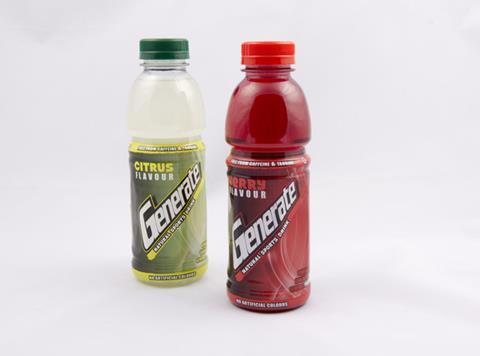 A Kerryfresh account manager has launched a new sports drinks brand, Generate.
The product was developed by Neil McDonald, who is intolerant to caffeine and spotted a gap in the market for a sports drink that catered to his needs. It launched on 28 December, exclusively through Kerryfresh, via distributor Drinks Natural. The two flavours, citrus and berry, are now available in a standard 500ml bottle (rsp: £1.39) and a £1 price-marked pack.
The drinks, which are sweetened with sugar and stevia, contain added magnesium, vitamin C and several B vitamins, which the brand said provided a range of benefits. The formulation originally contained sucralose, but this has been replaced with stevia to allow the product to be pitched as free from artificial ingredients.
"We identified the requirement for a truly healthy sports drink that has a wide appeal to all ages," said McDonald. "We wanted to keep the concept very simple and drive the category with innovation. We are very excited to launch our first two flavours and are working on new variants to join the portfolio. Working in partnership with Drinks Natural allows Generate to reach a great reach around the UK and Europe."