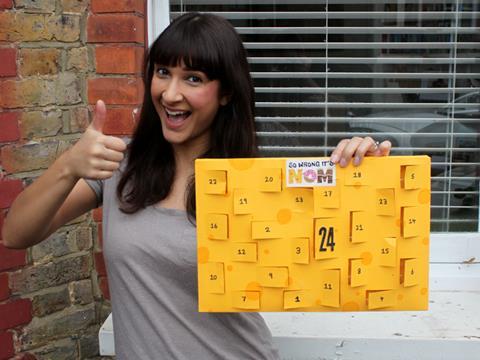 A food blogger is seeking a cheese producer to help her create "the world's first" cheese Advent calendar in time for Christmas 2017.

Annem Hobson, of sowrongitsnom.com, said she was on the hunt for a new partner for the project after being let down by a major cheese producer this week.

She hopes to create an alternative to regular chocolate Advent calendars, but needs a partner that already produces cheese - preferably in a miniature format.

The calendar will target 20 to 40-year-olds, will have an rsp of £20-£25, and depending on the cheese supplied, will probably need to be stored in the fridge.

Hobson, who previously worked in the communications sector, hopes to have a contract signed with a producer by February and to have the product ready for market by next summer.

The idea started in 2015, when Hobson made a prototype Advent calendar with 24 individually wrapped cheese pieces, and shared how to make one on her blog.

Readers then got in touch, requesting she also make one for them, and the idea "went viral" after she set up a website in November to gauge interest in a commercially available calendar.

Within three days, 10,000 people had signed up. "The biggest bit of feedback I've had is that people are kind of sick of chocolate dominating key retail periods throughout the year," said Hobson.

"My ideal long-term plan would be to take on chocolate with cheese," added Hobson, who also owns the trademark Cheester Egg.