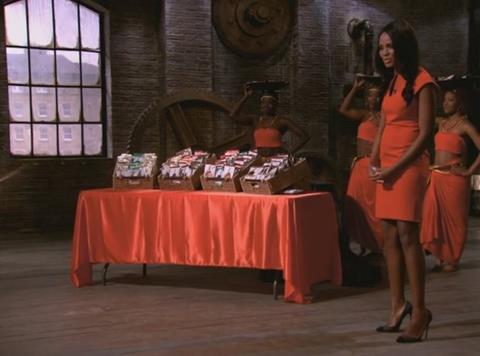 West African-inspired brand Chika's Snacks has secured £30,000 in funding from Peter Jones after appearing on Dragons' Den.
Jones took a 25% share of the business in the show screened on Sunday (19 July) after a pitch by founder and former accountant Chika Russell, who at one point had all five Dragons vying for a stake.
Chika's is made with ingredients sourced from farmers in Africa and is pitched as an "affordable luxury". The brand - which includes nuts, plantain crisps and chickpea crisps - rolled out to WH Smith nationwide this month and goes into 230 Waitrose stores in August (rsp: £1.39 to £1.80).
Russell, who entered the Den to African music and accompanied by three dancers, explained to the Dragons the range could expand, and outlined plans to develop dry marinades as well as sweet potato crisps.
Entrepreneur Sarah Willingham said there was a massive market for African food in the UK, while fashion brand founder Touker Suleyman praised the snacks' "clean, precise" branding.
Moonpig founder Nick Jenkins was first to make an offer – bidding £30,000 for 10% equity – followed by Deborah Meaden who described Russell as "extremely capable" and offered £30,000 for 20%, a bid matched by Willingham.
Jones offered Russell £30,000 for 25%, stating he would use his experience of building the Levi Roots brand as evidence of how he could make Chika's successful. Suleyman upped the stakes further, offering £40,000 and a £30,000 credit facility for 30%.
As Russell left the Den after accepting Jones's offer, Meaden said: "That is the first time I have ever seen somebody take control of the floor like that; at one point she had five dragons pitching to her."