Cell regeneration water, anyone? How about a pill that detoxifies your liver?
Functional innovation took a turn for the weird and wonderful at this year's IFE, with many of the show's 1,350 food and drink manufacturers proving there's more to functional than added protein.
Of the many segments vying for a piece of the functional market, two increasingly prominent players emerged at the show. Here are eight of our favourite gut health and mind performance innovations.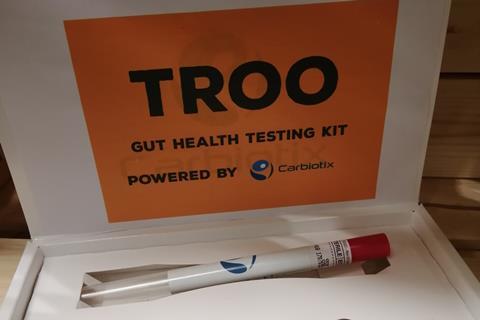 Troo Foods test kit
Troo Foods is evolving into an end-to-end gut health brand (not their words) with their latest innovation, a test kit subscription that allows consumers to track their gut health.
Described by the brand as by far the cheapest option on the market for monitoring gut health, the service requires customers to send a faecal sample to a lab to be tested once a month.
The subscriptions, which can be purchased on a four-month basis, join the brand's existing range of gut-friendly foods, spanning porridges, granolas and a high-fibre inulin syrup.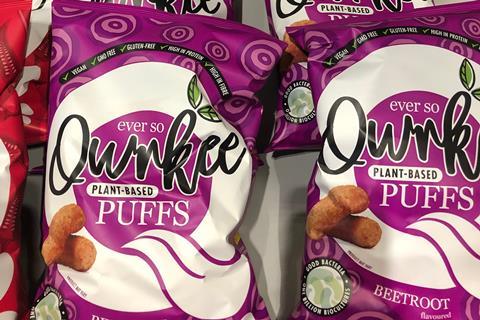 Probiotic puffs
Considering the current hype around gut health, it's no surprise that probiotics are the latest segment to emerge in puffed snacks.
One of the first brands to emerge in gut-friendly puffs is Qwrkee, which premiered its range of probiotic snacks at the show.
Available in Cauliflower, Beetroot, Vegan Cheese and Sweet Chilli variants, the brand states its puffs directly benefit gut health, as the dormant probiotics within each puffs only activate when they reach the gut.
New York hipster brand Vegan Rob's was also touting gut health credentials at the show, with its puffed snack range including two probiotic variants, Cauliflower and Dragon.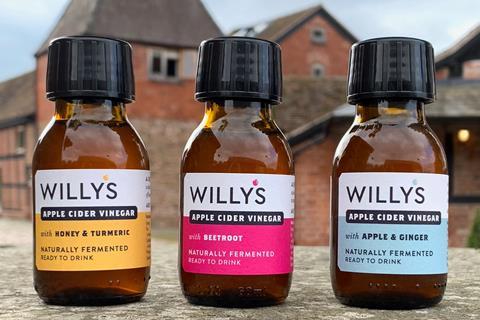 Apple cider vinegar shots
Apple cider vinegar brands Willy's is angling for a slice of the burgeoning functional shots market with its new 60ml ACV shots, due to launch next month in Turmeric, Beetroot and Honey and Apple & Ginger flavours.
It's not the only brand to spot the gap in the market. Fellow ACV brand Bragg is also set to launch shot versions of its ACV line later this year.
It's a smart move for both brands. IRI data shows cold-pressed juice shot sales rose 407% in 2018, driven by increasingly busy consumers looking for quick health boosts.
Apple cider vinegar is proving similarly popular, with Ocado reporting a 43% sales increase of its five-litre ACV bottles back in summer last year.
Considering neither trend shows any sign of slowing, combining them into one product could prove a strategic move.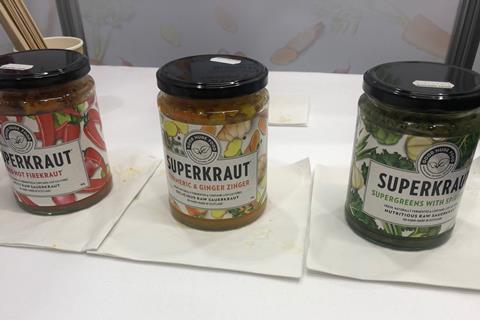 Superkraut
'Digestive wellness' brand Good Nude Food is hoping to drum up some excitement in raw sauerkraut off the back of growing interest in fermented food and drinks.
The Scottish brand is hoping to gain distribution in English retailers for Superkrauts, its range of raw sauerkrauts containing superfoods and gut-friendly live cultures.
Aware that the majority of British consumers have never tried sauerkraut, the brand has teamed up with Scottish TV chef Hailey Thompson to create recipes featuring its products, which are available in Red Hot, Turmeric & Ginger and Supergreens with Spirulina.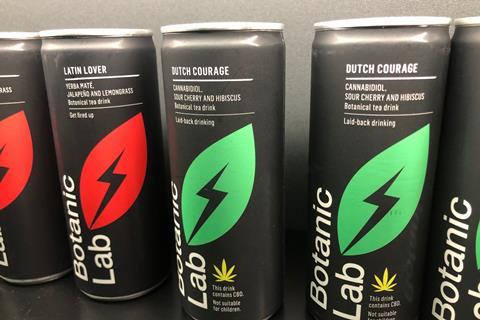 CBD
The new darling of functional ingredients featured in a host of food and drink categories this year, with innovations ranging from CBD tea and coffee pods from organic brand Rokit Pods to Nooro, which is claiming a world first with its CBD nootropic snack bars, set to launch later this year.
Other first-to-market claims at the show included Nudie Snacks' Hemp Protein Balls and Dutch Courage, a CBD soft drink from Botanic Lab. The drink, which launched in glass bottles last year and cans this month, will be available in Ocado from April.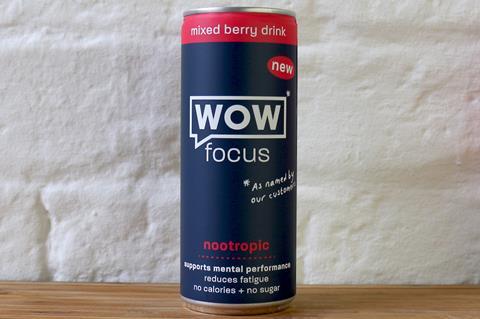 Nootropics
Nooro wasn't the only brand hoping to launch nootropics into public consciousness at IFE.
Wow Drinks' stand focused on its new Nootropic energy drinks, which aim to drive incremental value into the energy drink category by offering an all-natural alternative to high-sugar and high-caffeine drinks.
Containing no sugar or calories, the brand states the cans provide "up to three hours of enhanced mental performance" and an immediate alertness boost. The drinks recently gained a listing with Asda, and will roll out in 375 stores nationwide next month.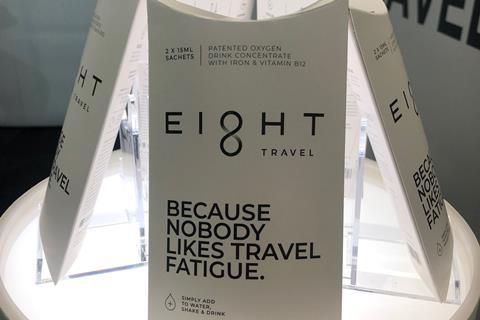 Remedies
Avrox Technologies is hoping to provide jet-lag relief to the masses with Eight Travel, a patented powder sachet the brand developed in partnership with Oxford University.
The powder, which relieves the headache of travel fatigue by improving the delivery of oxygen around the body, also provides a good source of iron and vitamin B12.
The brand is currently looking for distribution across several channels including retail and airline. Another remedy brand hoping to gain traction at the show was Indulge, whose hangover prevention pills detoxify the liver for a smoother morning after.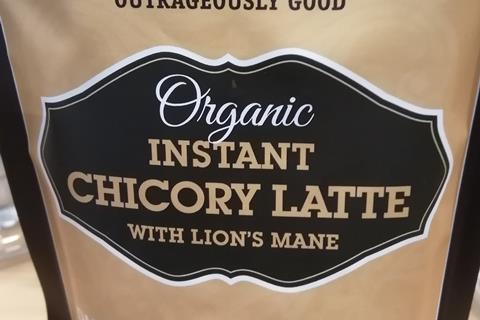 Lion's Mane
Dairy-free drinks brand Sweet Revolution is pushing the functional boat out with its new range of instant lattes.
The lineup launched in January, and includes Turmeric Latte with Black Pepper, Chai Latte with Reishi and Chicory Latte with Lion's Mane.
Though the mushroom remains largely unheard of in the functional ingredient segment, lion's mane is linked to a raft of mental health benefits, including links to improved memory, focus and concentration and anxiety reductio