Snack bars are sweating it out to provide the full health and nutrition package, here's our pick of the new products arriving in the category: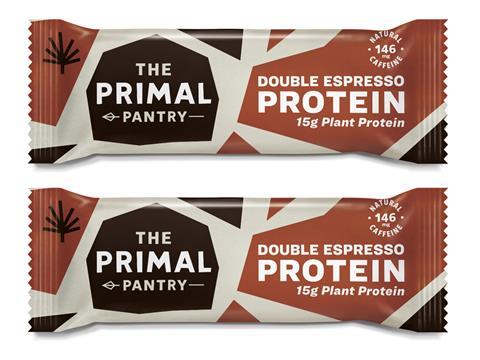 The Primal Pantry Double Espresso bar
Launched: January 2018
Manufacturer: The Primal Pantry

The Primal Pantry says athletes who want to "train harder for longer" should grab one of these perky bars (rsp: £1.99/55g), which deliver an "intense hit of 100% natural caffeine". The Double Espresso flavoured high-protein energy bar claims to be "100% clean" with 146mg of natural caffeine "for enhanced performance and alertness". It also contains 15g of complete plant protein and other ingredients include dates, hemp protein, coconut nectar, almonds and, naturally, coffee beans.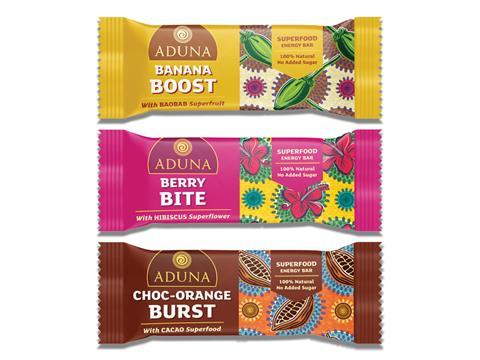 Aduna Superfood Energy Bars
Launched: April 2018

Manufacturer: Aduna

Powered by nutrient-rich African superfoods, the range includes Banana Boost powered by Baobab Superfruit, Berry Bite powered by Hibiscus Superflower and Choc-Orange Burst powered by raw Cacao. Each bar (rsp: £1.89/40g) is a source of fibre and at least two essential vitamins and minerals supporting energy release.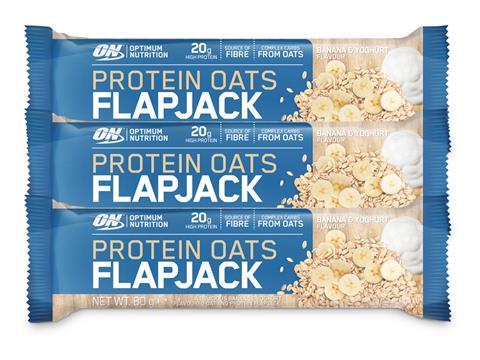 Optimum Nutrition Protein Oats bar
Launched: January 2018

Manufacturer: Optimum Nutrition

Each of these flapjack bars (rsp: £19.99 for 12 x 80g) contains 20g of premium protein and complex carbs from oats that "fill you up and keep you on-track with fitness and nutrition goals". They come in three flavours: Banana & Yoghurt, Blueberry and Chocolate Peanut Butter. They are a convenient source of protein and carbohydrates.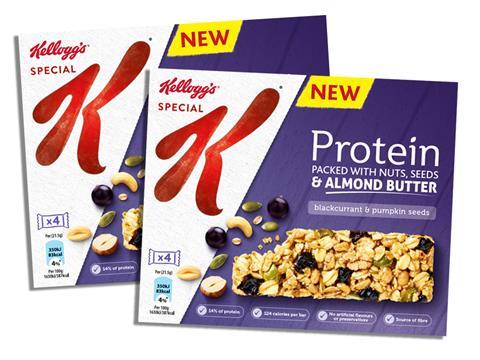 Kellogg's Special K Protein cereal bar
Launched: February 2018

Manufacturer: Kellogg's

Packed with protein sourced from "natural, plant-based ingredients such as nuts, seeds, grains and soy," cereal king Kellogg's says these bars (rsp: £2.99/21.5g) will appeal to a nation of "nutrition-conscious shoppers". They also incorporate almond butter, which contains 50% less saturated fat than peanut butter.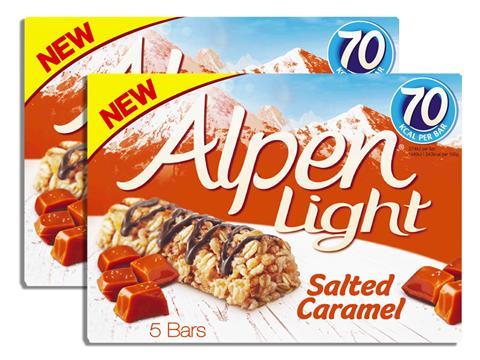 Alpen Salted Caramel Light Cereal Bar
Launched: January 2018
Manufacturer: Alpen (Weetabix Food Company)
Joining the existing range of gorgeous (Jaffa cake, Banoffee, Chocolate and Fudge) but calorie-light flavours (each bar is less than 70 calories) comes Alpen's newest variant, Salted Caramel, which Alpen says "gives people the chance to have a deliciously indulgent treat without the guilt. Alpen Light bars deliver a lower calorie snack without compromising on taste, offering a great alternative to snacks like crisps." As well as multipacks, the bars are available as single 19g bars. Rsp: £1.99/5 x 19g.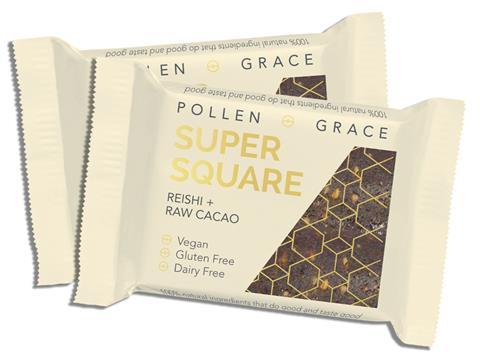 Reishi + Raw Cacao Super Square
Launched: April 2018
Manufacturer: Pollen & Grace
These reishi + raw cacao super squares are "rich, gooey praline-style bars" made from hazelnuts and raw cacao powder, and enhanced with reishi powder, a traditional Chinese medicinal mushroom. Free from gluten, wheat and 100% vegan, the line is also free from any dried fruit, using only brown rice syrup to sweeten. Rsp: £1.95/35g.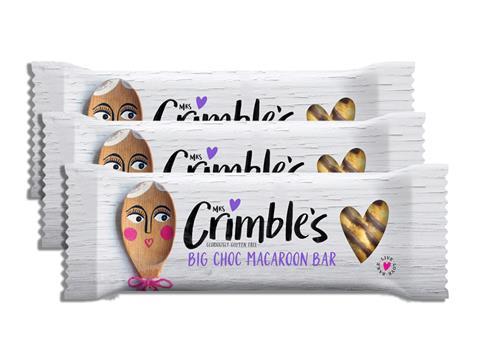 Mrs Crimble's Big Choc Macaroon Bar
Launched: February 2018
Manufacturer: Wessanen UK
Gluten-free brand Mrs Crimble's has extended its choc macaroon range with a single-serve snack bar designed to appeal to coeliac sufferers and those avoiding gluten who want an on-the-go hit. Made with coconut and dark choc, Mrs Crimble's says the Big Choc Macaroon Bar "delivers taste, texture and convenience". Rsp: 99p/60g.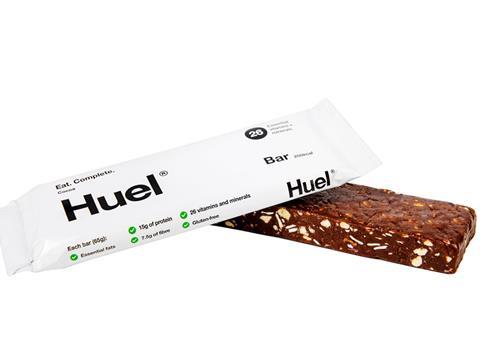 Huel Bars v2.0
Launched: January 2018
Manufacturer: Huel
Huel bars are a "nutritionally complete grab and go snack". The bars are "lower in sugar than a number of other energy bars, with 11% sugar by energy" which Huel says makes them "far superior in terms of nutrition" to other bars, claiming their "nutritional profile allows them to be your sole nutrition on a daily basis." Rsp: £12/5x65g.
Read more