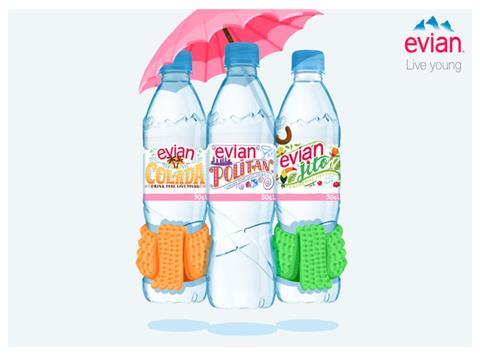 Danone is offering moral support to British consumers taking part in Dry January with the launch of three limited-edition cocktail-themed bottles.
The Evian Spirits range - Evian-Jito, Evian-Colada and Evian-Politan - will be available from this Friday in 500ml, 2-litre, 6x500ml and 6x1.5-litre packs.
The packs will be supported by a Facebook, Twitter and Instagram competition, encouraging people to share pictures of their most 'highly spirited' outfits. Winners will receive a limited-edition umbrella.

"Everyone knows January is a tough month to get through, post-Christmas slump and pre-summer slog," said marketing manager Sarah Dossett. "For January this year Evian will share its Live Young spirit with UK consumers again."

Evian's sales last year were up 8.7% to £151.3m, putting it slightly behind the bottled water category, which was up 9.4% to £959.9m [Nielsen 52 w/e 24 October 2015]. Evian is the number two brand, behind Volvic.