From 'jam is back' to 'new ways with ice cream' - here's what you need to know about the top trends exhibited in New York City this year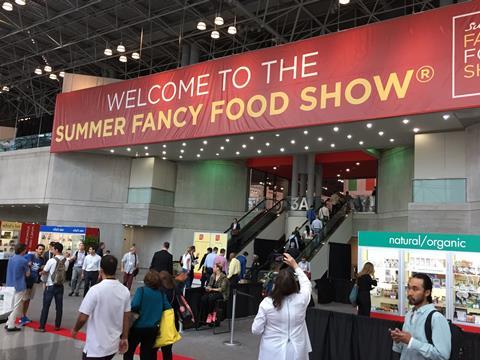 Now in its 62nd year, the Fancy Food Show in New York City is a great showcase of all that is interesting and innovative in the world of gourmet and natural foods.
It's where a lot of tomorrow's food trends first pop their heads above the parapet – quinoa, kale, coconut water, lentil-based snacks all first emerged at the Show and are now increasingly part of the mainstream of UK supermarkets' food offering.
This year, the Show seemed busier than ever (over 23,000 attendees meant crowded aisles!). It's little surprise, given the level of innovation and energy that was evident amongst the 2,600 exhibitors.
So what are this year's standout trends?
Some of the trends that we spotted a year ago were still very evident in 2016 and are clearly starting to 'stick' – nut butters, for example, were highly evident and have stretched well beyond peanuts into more unusual ingredients such as chestnuts. There was lots of chia, lots of jerky, but a lot less popcorn than in recent years.
There was also a lot of emphasis on protein content across a whole range of categories – a macro trend that has been evident for the past couple of years but still seems to be climbing in prominence.
At a glance, our 10 picks of this year's trends are:
1. Sprouted Seeds
2. Jam Is Back
3. Slow Down
4. Honest, Real, Proper
5. Hummus Plus
6. Contradictions – Sweet To Savoury, Savoury To Sweet
7. Get My Goat
8. New Ways With Ice Cream
9. Coconut Inside
10. An Ethical Stance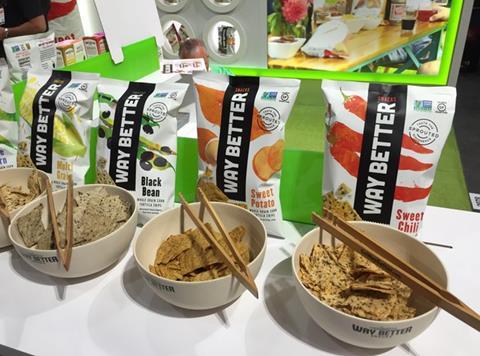 1. Sprouted Seeds
When seeds are allowed to sprout, more of their nutrients are released, they are easier to digest and quicker to cook. So, unsurprisingly perhaps, we came across products in several categories that prominently proclaimed their sprouted seed content.
Way Better had a range of whole grain corn chips that claim to have unlocked the inner goodness of their seed content so you can "Taste the sprouted difference", while Floating Leaf from Canada had a range of rice and pulse mixes that contain sprouted seeds, again, to enhance their health credentials. The visible prominence of the sprouted seeds in both product ranges also contributed to their appeal – a more rustic, less processed appearance.
California's Living Intentions had a range of snacking seeds, cereals and trail mixes that all contain sprouted seeds under the banner of 'Taste the power of sprouted'.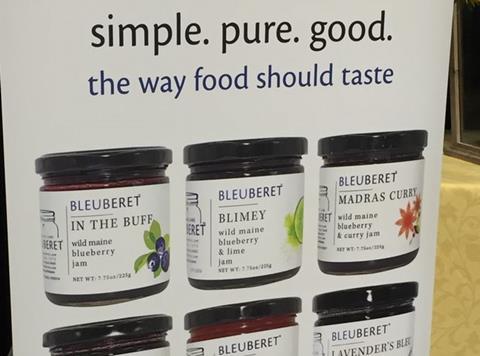 2. Jam Is Back
Last year, it was honey and peanut butter that appeared to be making a come-back; this year, jam was everywhere across the three halls of the Show.
Plenty were simply offering excellence in taste around established jam flavours, but others were pushing the boundaries. Bleuberet from Maine add funky descriptors to draw attention to their range ('Blimey' for their Blueberry & Lime, 'In The Buff' for their Blueberry), and also offer Asian-inspired flavours like Madras Curry and Tamatar.
There were also some 'healthier' jams, featuring chia seed inclusions from World Of Chia – attempting to balance virtue with sweet treaty-ness!
Extending on from traditional jam, Rutherford & Meyer from New Zealand was exhibiting a range of fruit paste products including Pomegranate, Fig and Quince designed to be the perfect accompaniment to cheese, and targeting the foodservice sector.
And 'jams' are also increasingly evident as complements to cheese or other savoury dishes – The Gracious Gourmet was displaying a range of spreads that included Spiced Sour Cherry and Fig Almond alongside more traditional varieties like Apple Caramelised Onion.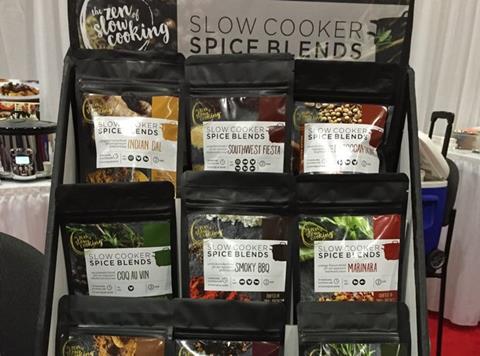 3. Slow Down
Amid the thousands of products designed to reflect our desire for quick satisfaction on the move, it was refreshing to come across some signs that slowing things down to prepare proper, nutritious food is re-emerging.
The best example of this was from Chicago-based Slow Cooker Spice Blends that promotes "The zen of slow cooking". Its founders have recognised the benefits of 'prepare fast, cook slow' and have therefore produced a range of flavour blends specifically designed to be added to chopped proteins and vegetables in the morning to be cooked gently in a slow cooker through the day.
Taking the idea of a slower, less frenetic world a stage further is Back To Our Roots from California, which has produced a range of food growing kits that enable people to easily grow their own fresh ingredients. Whilst it takes some time for mushrooms to flourish in a jar, this is off-set by the benefits it brings in educating and involving family members in the process, and the sense of having created your own ingredients.
And premium tea brands such as Tea Forte are introducing high-quality blends designed to be savoured like wine – a leisurely, considered drink rather than a swift cuppa.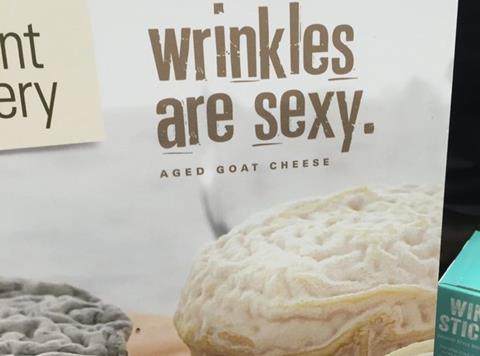 4. Honest, Real, Proper
Over the past decade more and more of the foods in our supermarkets have proclaimed their 'natural' status, but there is a growing cynicism amongst several of the food producers that we spoke with that this is an increasingly undifferentiating claim as the most spurious of 'natural' credentials are being put forward.
Instead there is plenty of evidence that more precise claims are being made, and that the truly natural food brands are eager to be as transparent and honest as possible about what their food contains and how it has been prepared. 'Grass-fed' was a clear example of this – a prominent support to a number of meat and dairy products on show.
McKenzie were one of several brands that sought to clearly set out the ethos behind its meat and deli range – "We believe when you make it right it simply, honestly tastes better". Ito En tea had a bench on their stand that had a simple note attached to it – "Made from recycled tea leaves" – a very tangible demonstration of a commitment to sustainability.
And brands can still have fun whilst being honest – like a goat's cheese brand proclaiming "Wrinkles are sexy" to make a virtue of the appearance of their product.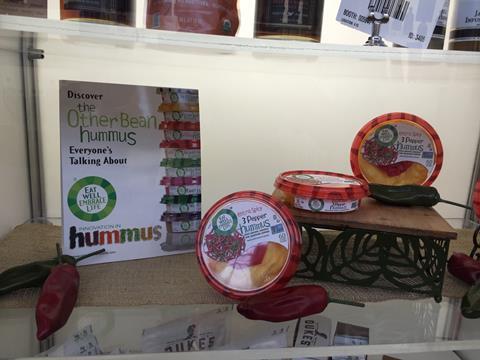 5. Hummus Plus
Hummus is another pretty familiar product that appears to be enjoying a new lease of life – there were plenty of hummus offerings, each of which had its own novel new spin on the humble chickpea dip.
Wild Garden had a new range – the prosaically named 'Snack Box To Go' – that packaged hummus in a convenient form for eating on the move with crackers or chips included.
Eat Well, Embrace Life had a range of 'Other Bean' hummus products made (unsurprisingly!) from other pulses – lentils, edamame beans, white and black beans. They even offer hummus made from beetroot or carrots.
And then there was Delighted By Dessert Hummus – hummus given a sweet twist (Orange Ginger, Chocolate Chip or Snickerdoodle) that is both tasty (yes – it actually works!) and that bit healthier than other sweet-tasting puddings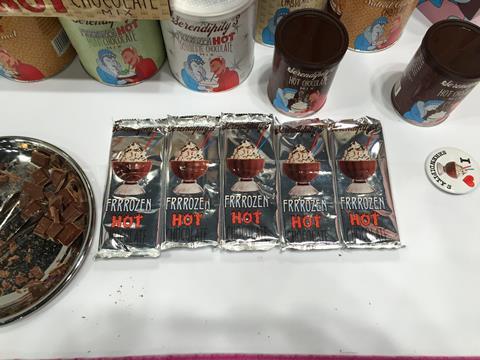 6. Contradictions – Sweet To Savoury, Savoury To Sweet
Along with the dessert hummus we also came across curry flavoured ice cream (truly delicious…!), curry flavoured jam and potato snacks stuffed with chocolate. Has the world gone mad!
Savoury yoghurt products were being displayed by both established and fresh new brands – Fage had a range called 'Crossovers' that included a Coconut Curry With Cashews and a Carrot Ginger With Pistachios, whilst Brooklyn-based Sohha had a range of savoury yogurt products under the banner 'Yogurt doesn't have to be sweet'.
Don't Break Your Diet had a range of snacks that look like potato chip spirals, but that all had sweet flavours (Key Lime Pie, Apple Pie, Birthday Cake) to satisfy sweet taste cravings without adding too many calories.
And New York's Serendipity 3 had a range of 'Frrrozen Hot Chocolate' products that extend the contradictions theme still further.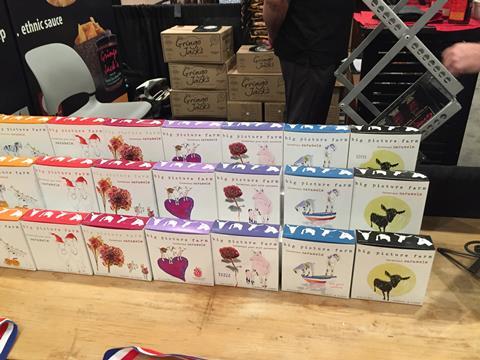 7. Get My Goat
If you'll excuse the phrase, there was a lot of goat at the Show this year – from straightforward goat's cheese to more unusual applications for goat's milk.
Ohio's Mackenzie Creamery produce a variety of flavoured goats cheese products including Black Truffle, Cognac Fig and Wasabi Sesame, and stress the sustainability and environmentally friendly approach their business takes.
Big Picture Farm from Vermont have a range of award-winning milk caramels made using the goat's milk from their farm – truly delicious and tempting.
La Loo's produce a range of unusually flavoured goats milk ice-cream – Black Mission Fig and Rumplemint particularly stood out! Part of the appeal of their range is that goats milk is more digestible than cow's for those with a lactose intolerance; it's much closer to human milk – hence, perhaps, the number of goat's products on show.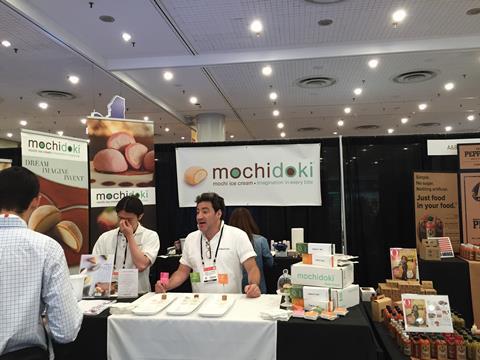 8. New Ways With Ice Cream
There was far more ice cream on offer at this year's Show than we've seen in previous years, with some unusual and innovative flavours like Vietnamese Coffee (from Humphrey Slocombe).
Mochi ice cream snacks were evident on a number of stands – small balls of rice powder dough wrapped around different ice cream flavours to produce a dessert snack that bridges ice cream and confectionery. Mochidoki proclaim that they are bringing together 'two cultures in one bite' with their mocha range – the Japanese product origins combined with the western desire for convenient, tasty sweet treats.
Divino's gelato-filled fruit had a similar approach, albeit with a different 'outer'. It's a dessert idea that has been around for some years (Divino's fruity treats were apparently a favourite of Jaqueline Kennedy) but that have been brought up to date for our busy, demanding world.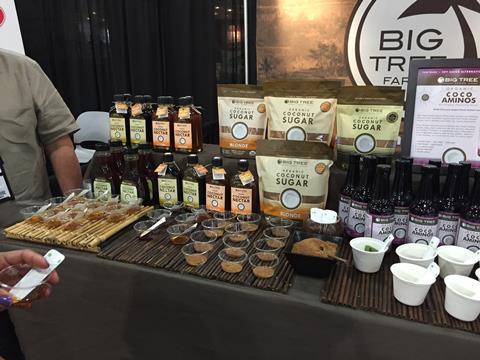 9. Coconut Inside
Building on the evident success of coconut water a plethora of different products were on show using coconut as a core ingredient – everything from biscuit wafers to toffee to yogurt and ice-cream.
Creative Snack Co. had a range of Coconut Snacks and Coconut Bites that combine seeds, nuts and fruit with coconut to produce healthier, organic snack products that can be eaten on their own, or added to ice cream or yogurt.
Big Tree Farms had a range of coconut sugar and nectar products made from the blossom nectar of the coconut tree to provide a high nutrient, low glycemic sweetener to replace sugar.
And Jubes were displaying a range of coconut gel desserts – described as "fibrous, chewy juice cubes" made from coconut water.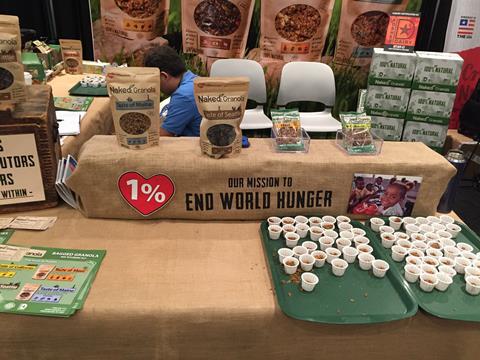 10. An Ethical Stance
All around the Show there were disparate examples of food brands attempting to do their bit to make the world a better place.
Ajiri Tea donate all their profits to "orphan education" in Kenya – their name means 'employ' in Swahili, and the business began in 2008 with the specific purpose of creating a full cycle of sustainable aid to directly benefit the communities that produce their tea.
Lotus Foods proclaim that they are a 'Water smart and women strong way to grow rice', delivering 'more crop per drop'.
Ethical Bean Coffee from Vancouver offer fully compostable coffee pods and the ability to track the journey each coffee bean has taken 'from crop to cup'.
Naked Granola boldly claim 'Our mission to end world hunger' supported by their donation of 1% of net sales towards this cause (they claim this is a significant, generous amount…)
——————————————–
Overall, this was one of the most interesting, vibrant international food shows that we've attended in recent years. A real sense of innovation with a purpose, and with a desire to 'do the right thing'. It will be interesting to see which of these trends best 'sticks' and finds its way onto the shelves of our supermarkets over the next few months.
Chris Blythe is director at the Brand Nursery