Forget the egg. The bunny is over. As chocolatiers look for new ways to make their products stand out, there are far more innovative ways for shoppers to get their confectionery fix at Easter – from chocolate pizzas to avocados. Here are some of the top innovations hitting stores this Easter.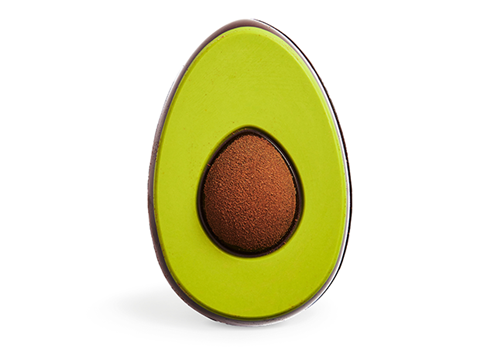 Waitrose Chocolate Avocado, £8
Avocado-on-toast aficionados need look no further for their Easter fix. Waitrose is this year launching a Chocolate Avocado: a Belgian chocolate egg with a white chocolate 'flesh' and milk chocolate dusted 'stone' in the middle. At £8, it is slightly pricier than your standard avocado – but promises far more of a sugar hit.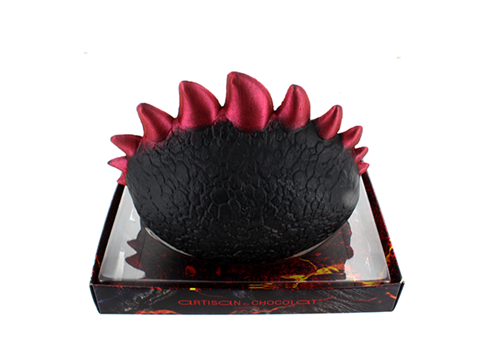 Artisan du Chocolat Dragon Egg, £20.99
Going all out this year is independent chocolatier Artisan du Chocolat, which has designed a whole new Easter range including 'dragon eggs', pineapples and flamingos. "Our Easter eggs aim to create an emotional reaction: a smile, a surprise – something beyond expectation – that is why our 'unusual' products are loved," says chief chocolatier Anne Weyns.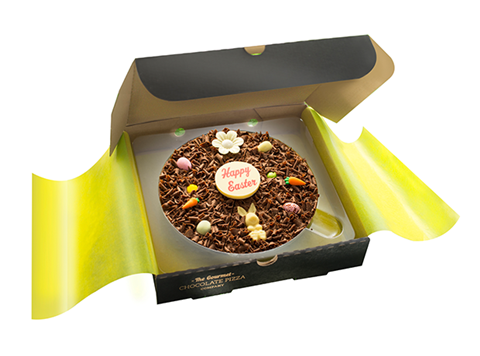 Gourmet Chocolate Pizza Co Easter Pizza, £11.75
Hot on the heels of its debut into the Easter category last year, the Gourmet Pizza Co has expanded its range to include this new-look pizza. "Our Easter chocolate pizzas are a little bit different, it's fun and there's an element of surprise when you open the box," says Gourmet Chocolate Pizza Co director Helen Ellis. "People know if they buy an egg from the supermarket they are going to get something hollow and often it is gone too quickly, but there is a market for those who are happy to spend a little bit more knowing they are getting more chocolate for their money."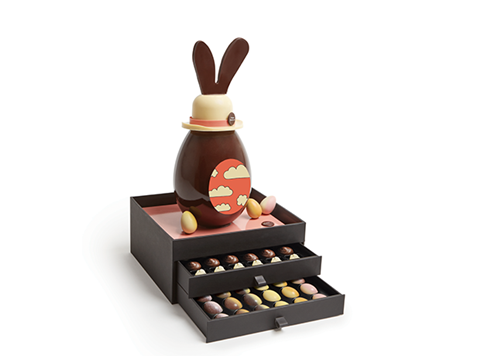 Pierre Marcolini Egg Hat, £135
Those who are willing to pay (quite a bit) extra can find some unusual creations at Pierre Marcolini, who will launch its Mister Mysterie Collection in February. Its most luxurious product is The Egg Hat – a £135 dark chocolate egg with a big-eared white chocolate bowler hat, a drawer of 30 mini eggs and another of 30 caramel animals.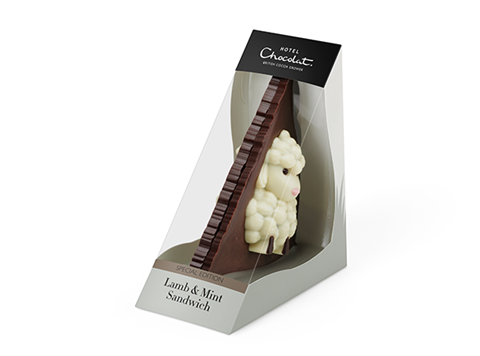 Hotel Chocolat Lamb and Mint Sandwich, £10
The Easter sandwich format has proven so popular for Hotel Chocolat – earlier launches include an 'egg sandwich' with caramel – that it has unveiled new additions this year. The Lamb and Mint Sandwich puts a sweet twist on the Easter lunch with 50% milk chocolate, Tasmanian mint and crunchy feuilletine. Plus, it has paid homage to Elvis with a RockRock 'n' Roll Sandwich including peanut and banana flavours. Hotel Chocolat even puts a loaf of bread through a 3D scanner to make sure its chocolate sculptures look like the real thing.