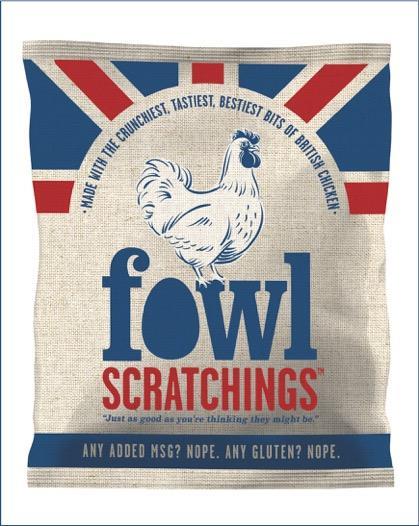 Pigs have had the scratchings market to themselves for years – but chickens are now getting in on the action with the launch of Fowl Scratchings.
Made from chicken skin, the savoury snack is the brainchild of advertising copywriter Robert Jebb, who collaborated with Tamworth-based The Real Pork Crackling Co. to develop the product and bring it to market.
"Like many people, while carving a Sunday roast I enjoyed picking at the crispy skin whilst no one was looking," said Jebb. "I thought, why has this never been available as a snack? After all, the pork scratching has been a national favourite for years."
He added that the scratchings were versatile – and could be used to top a salad - and would have a wider audience than pork as they were lighter and more delicate.
Officially launching at the IFE show next week, the snack comes in a 25g bag (rsp: £1) and is available to purchase now on the brand's website. It will initially target pubs, wholesale, convenience and delis, but Real Pork Crackling MD Lee Edwards said he hoped to eventually secure listings in the mults. The company supplies Tesco, Asda, Sainsbury's and Morrisons with its existing products.