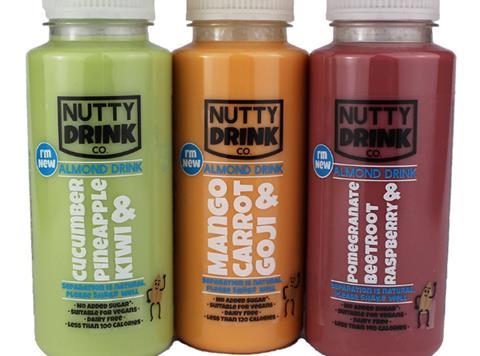 Goats milk supplier Delamere Dairy has launched a new range of nut-based drinks with added fruit and vegetables called the Nutty Drink Co.

The range consists of three almond-based drinks, including cucumber, pineapple & kiwi; mango, carrot & goji; and pomegranate, beetroot & raspberry (rsp: £2/250ml). Christmas flavours are also planned for the range, along with varieties designed with meal occasions in mind, such as breakfast.
The drinks are made in the UK by Delamere, with real nuts which are then soaked, pressed and blended with fruit and veg.
Available directly from the manufacturer from this month, the drinks are cold-pressed to "preserve the goodness of the ingredients" and contain no added sugar.

The Nutty Drink Co is the supplier's first branded dairy-free offering in the UK, but joins its range of own-label plant-based drinks, which have been available for 10 years, including soya, oat, rice, coconut and almond offerings.

"The brand is a natural extension to the company's proven track record in dairy alternatives," said a spokeswoman for Delamere. "Indeed, sales of our plant-based drinks were up 31% in 2016 vs 2015."