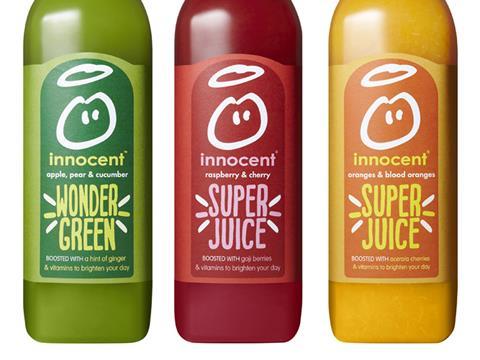 Innocent is hoping to revive flagging juice sales with the launch of a functional, vitamin-infused range, while rival Tropicana is taking another punt at smoothies.

Innocent's NPD, launching in April 2017, comprises Wonder Green apple, pear & cucumber with ginger & vitamins; Super Juice oranges & blood oranges with acerola cherries and vitamins; and Super Juice raspberry & cherry with goji berries and vitamins.
The juices, which contain vitamins B2, B3, B6, C and E, offer "functional health benefits", the brand claimed. They will be available in 360ml (rsp: £1.79) and 750ml (rsp: £2.99). Innocent hopes the launch will help "re-ignite" the flagging juice category. The war on sugar wiped almost another £50m off total fruit juice sales in the major mults last year, with Innocent's sales plummeting 8% to £85.4m on volumes down 11.6% [IRI 52 w/e 2 January 2017].

In contrast, the brand's smoothie sales surged 17.4% to £102.4m on ­volumes up 14.6% after it launched Gorgeous Greens and extended its Super Smoothies range.

"We believe our new Super Juices will ignite growth in the juice category," said Innocent managing director Nick Canney.

At the same time, fruit juice rival Tropicana is making a fresh bid for smoothie spend with the launch of its new Morning Boost range, which blends fruit juice, fruit purée and cereals.

Launching in March 2017, the trio - Apple & Pear, Orange, Banana & Mango, and Forest Fruit (rsp: 750ml/£2.99) - is set to create "a whole new sales opportunity for retailers within juice".

The Orange, Banana & Mango variant will also be available in a 330ml format (rsp: £1.99) for on-the-go breakfast.

Tropicana's fruit juice sales were down 3.1% to £226.2m on volumes up 0.2% [IRI].