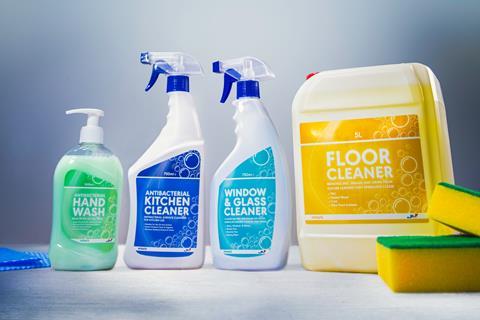 Wholesaler JJ Food Service has launched an own-label hygiene range.
The new line comprises of four core products: JJ Floor Cleaner, JJ Anti-Bacterial Handwash, JJ Anti-Bacterial Kitchen Spray and JJ Window & Glass Cleaner Spray.
The wholesaler is running an introductory offer with the products costing under £1 until 30 September.
A 500ml handwash will cost from 96p each and window spray from 94p.
Customers can also now buy individual packs of branded hygiene items, including Fairy, Ariel, Persil and Lenor washing and cleaning products, as well as Dettol surface cleaner.
The new range adds to the 500-strong portfolio of goods JJ's offers direct to consumers. The new division of the business was launched during lockdown and is now a permanent fixture.
"Whether you're at home or at work – using quality cleaning products can help to stop the spread of germs including coronavirus," said JJ chief product officer Sezer Ozkul.