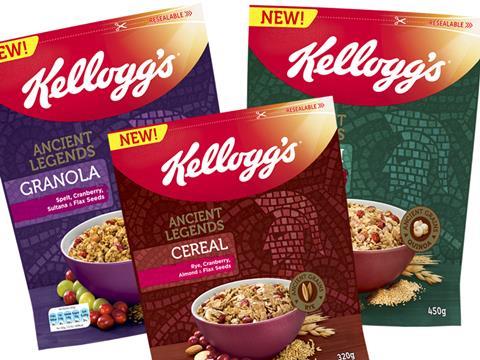 Kellogg's is aiming to tap consumer interest in healthy grains with the launch of eight new breakfast cereals and cereal bars in January.
Ancient Legends is a range of two mueslis, two granolas and two cereals that use 'ancient grains' such as spelt, rye and quinoa. The 320g-450g resealable packs will be available as a non price-marked pack at an rsp of £2.99, while two variants will also come in a £2.49 PMP.
The range takes its name from the practice of ancient societies to reserve their finest grains for their greatest warriors. For the first time, the supplier is introducing a 'masterbrand' strategy, which will see a large, prominent Kellogg's logo appear across the top of packs.
Kellogg's is also introducing Nutty Chewy Bar and 5 Grain Muesli Bar (rsp: £0.69p), which will also be part of the Kellogg's masterbrand, and target health-conscious shoppers who often don't have time for breakfast.
Ancient Legends will benefit from a £7.5m above-the-line spend, including a TV campaign from April, while the bars will get £2m of support - with 1.5 million bars given away.
The range had been designed to simplify the muesli and granola fixture for consumers interested in new ingredients, said Ruth Gresty, marketing manager for Ancient Legends.
"A number of companies have released products containing ancient grains, but they tend to be niche offerings that complicate the fixture," she said. "People often hear about chia or rye, but then they're shocked by the cost: we're presenting the consumer with a great value set of products that they can purchase in the knowledge they'll have the scrumptious taste Kellogg's can provide."
Gresty added that the brand positioning would help Ancient Legends enjoy a "much stronger appeal to men" than most products in the category.
The six SKUs are: puffed spelt, pumpkin & sunflower seeds, sultana & flax seeds muesli; quinoa, apple, cranberry & chia seeds muesli; spelt, cranberry, sultana & flax seeds granola; rye, chia seeds, sultana & pumpkin seeds granola; rye, cranberry, almond & flax seeds cereal; and spelt, apple, sultana & chia seeds cereal.
The Nutty Chewy Bar is a mix of roasted peanuts, almonds, coconut flakes and crispy rice pieces on a dark chocolate base, while the 5 Grain Muesli Bar contains oats, wheats, barley, rye, triticale, red apple, peanut & pumpkin seeds.