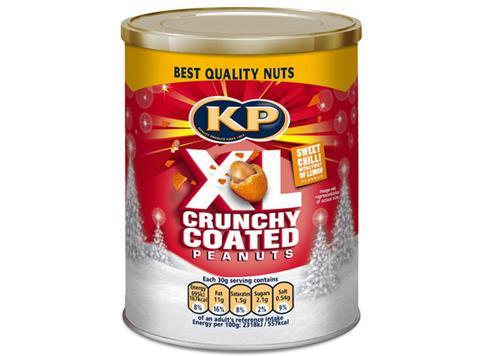 KP Snacks is launching its Christmas range encompassing new flavours and the return of KP Nuts' caddies.
The nuts Caddy range is being relaunched across three flavours: Jumbo Salted Peanuts (465g), Honey Roast Peanuts (435g) and Dry Roasted Peanuts (465g). This relaunch is to capitalise on the fact that 40% of KPs nuts sales occur over the Christmas period.
The sharing solution caddy range is also expanding with the launch of the new XL Crunchy Coated Sweet Chilli and Lemon flavour peanuts (350g). The best-selling flavour in coated nuts aims to attract a younger consumer into nuts at Christmas. The RRP for all caddy nuts products is £4.00.
Two KP Snacks favourites will undergo a fun festive makeover. POM-BEAR Snowmen and Hula Hoops Stars will be available in packs of 120g and 210g at RRP of £1.99.
Exclusive Christmas product The Cheese Football Caddy (150g) is back with a new product the Salt and Vinegar Reindeer Bites (150g). Both have a recommended retail price of £3.00.
"Research shows that consumer spending is increasing year-on-year, so we're confident that there is a huge opportunity for retailers to drive sales and profit at this vital time of year," Andy Riddle, branded sales director, KP Snacks said.
"The key to making the most of festive sales is planning early and stocking a strong range of quality, best-selling brands such as KP Nuts that act as signposts for the category."