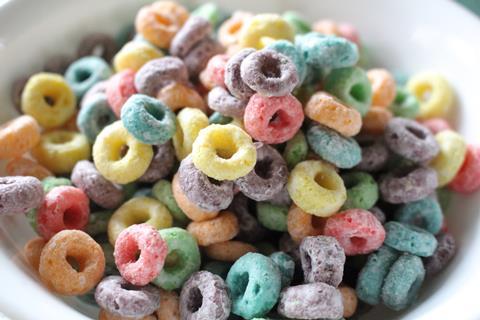 It's the new year and food brands are back with a brand-new invention. The trouble is, much of it is novelty for novelty's sake. Rather than NPD that meaningfully addresses health and sustainability challenges, too often we see things like bubblegum-flavoured breakfast cereal.
In the world of food research and development, companies are in a rush to get the next new product on the shelves or the menu. The world's largest food and drink companies spend a fortune on R&D. Nestlé and PepsiCo's combined R&D spend from 2016 to 2020 was over £9bn – more than the annual GDP of many countries, from Malawi to Moldova.
Too often, this rush culminates in a race to the bottom. Companies try to deliver ever-cheaper products, even if that means exploiting something or someone. Much R&D relies purely on the novelty factor, fuelling overconsumption and waste.
To borrow some famous lyrics: "Alright stop, collaborate and listen." I'd add: "Channel your R&D spend into something meaningful", but the rhythm's not so catchy.
Stop: the race to the bottom is the wrong race. And mindless rushing won't get us anywhere in the long run. Press the pause button, and use the time to think differently. Resolve to turn 'new product development' into 'no petty development'. Novelty products – the next self-heating coffee can or personalised chocolate figurine – do nothing to make food better for people, animals or the planet.
Collaborate: look beyond the individual product and instead work with suppliers, customers and your own people to ask how your brand can contribute to healthy, environmentally sustainable diets for all. What if companies joined forces on innovation to spend their money differently and channel ideas into creating fairer and more biodiverse food systems? What if, instead of the usual flip-flopping between plastic, glass and cardboard packaging, companies collaborated to design out the need for virgin packaging altogether and accelerate a sector-wide rollout of refill models?
And listen: there are some bold ideas out there if you're ready to rise to the challenge. Sue Pritchard of the Food, Farming and Countryside Commission recently challenged major food and drink companies to only bring a new product to market if they drop 10 unhealthy or wasteful products from their ranges. Replacing one product with an incrementally different one isn't good enough as an NPD strategy. We need more reverse NPD, where the unhealthiest products and unsustainable ingredients are removed from product portfolios.
Let's ditch flippant tweaks to flavours and formats in the name of supposed convenience and novelty. Redirect R&D time and effort into new creative methods to address the sustainability, health and inequality challenges of our time – and into making what you already have fairer to people, animals and the planet.
What would I like to see as the most-used words in the sector this year? Courage. Transformation. Integrity. And wellbeing – particularly focusing on the wellbeing of farmers and all those working to get good food to our plates. Last year was exhausting and overwhelming for many. Elastic bands can only stretch so far before they reach breaking point.
Wishing you a safe and healthy 2022, with lots of new ideas. But no new bubblegum-flavoured breakfast cereals please.