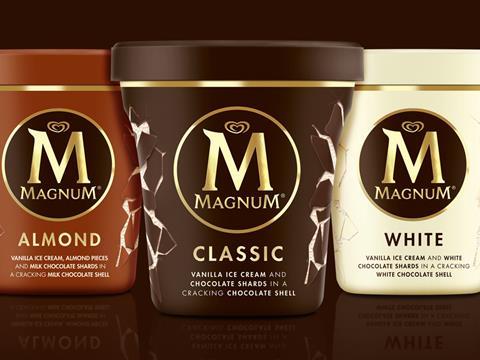 Magnum is having a second stab at making it in tubs after its initial trio disappeared from shelves last year on the back of melting sales.

The new Magnum tubs, available now, are based on the brand's most popular flavours - Classic, Almond and White, with each featuring vanilla ice cream with shards of Magnum chocolate encased in a cracking chocolate shell and topped with a thick chocolate disc (rsp: £3.85/440ml).

The NPD comes five years after brand owner Unilever launched its first Magnum tubs range in 2012, which comprised Chocolate & Vanilla, Chocolate & Chocolate and a Magnum Luxury variant with a core of chocolate sauce and sprinkles. The range started getting delisted in 2014 and by 2015 Magnum tub sales had fallen to £1.4m [Nielsen 52 w/e 3 October 2015].

Unilever did not comment on the original tubs range, but described the latest NPD as a "unique innovation" for the brand and said it followed three years of R&D to "perfect the consumer experience".

"The tubs have been designed to ensure the distinctive Magnum chocolate and ice cream experience in every spoonful," said brand manager Alix Colin.

Magnum needed to "perhaps think a bit more about how it pitches the product to the punter", said customer engagement agency Psona.

"Careful thought needs to be given to what people previously saw as an individual indulgent purchase into what is now a sharing experience."

Unilever is supporting the launch with a "significant" marketing spend.